Aims and objectives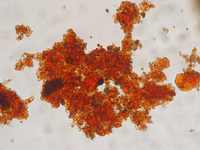 FIMIN relies and builds on existing national and international projects and initiatives, such as those ones in which several members of the Steering Committee already participate. As these programmes tend to have narrow and specific research goals, they are often limited to a specific discipline, and all are restricted by a tight time-schedule. Therefore, the Research Networking Programme will allow scientists interested in evaluating the role and use of iron in the environment to adopt a truly multi-disciplinary approach in Europe to address major open questions of global significance in this field.
The ultimate goal of the project is to elucidate the functionality of iron minerals. Cycling of electrons and matter through iron minerals is of relevance to contrasting disciplines in the environmental sciences, including geochemistry, biogeochemistry, microbiology, soil and hydrological sciences, and biotechnology. FIMIN therefore aims to:
improve our understanding of the surface reactivity of iron minerals from a mechanistic point of view,
understand the mechanisms and strategies microorganisms adopt to cope with surface chemical constraints,
integrate this knowledge into the modelling and quantification of electron fluxes in natural systems,

develop sound strategies to make use of the functionality of iron minerals in (bio)technological applications.

In order to meet these goals FIMIN strives to integrate scientists working on a variety of scales (e.g. from molecular geochemistry, through reactor dimension and catchment size to the global scale), using different methods (e.g. spectroscopy, geochemical techniques, stable isotope techniques, molecular biology, microbiology, field techniques and modelling) and investigating different environmental systems (e.g. soils, sediments, waters and remediation systems).

Primarily, FIMIN will further promote and facilitate the exchange of knowledge and materials (microbes, cultivation techniques, reference minerals or preparation procedures), and access to analytical equipment and to potential study sites. The following initiatives serve to stimulate mutual learning within the Programme:
providing a platform for European researchers of different disciplines to promote and integrate various concepts and techniques related to the understanding of the functionality of iron in natural and anthropogenic processes
facilitating exchange of know-how and materials (microbes, cultivation techniques, reference minerals or preparation procedure)
initiating new research activities that utilise state-of-the-art techniques and technologies for studying the role of iron in environmental (bio)geochemistry.
providing means, including exchange visits, conferences, workshops, summer-schools, common databases and an interactive webpage, for the development and promotion of common approaches for studying chemical and biological processes related to iron species in environmental systems
enabling access to and the support with analytical equipment or interesting field sites
providing opportunities for training young investigators in the latest advances in relevant techniques, such as spectroscopy and molecular biology.