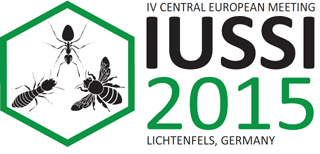 IV Central European Meeting of IUSSI 2015 in Lichtenfels
The 4th Central European Meeting of the International Union for the Study of Social Insects was held on 26th to 29th March 2015 in Lichtenfels, Germany. We had many excellent presentations on social insects including areas such as nutritional ecology, host-parasite interaction and immunity, division of labour, ageing and reproduction.
Invited Speakers
- Audrey Dussutour, University of Toulouse, France.
- Christoph Grüter, University of Lausanne, Switzerland.

Program
Find the full program online!
Venue
We have, discussed and slept at "Schloss Schney", once a castle now a conference centre run by the Franken-Akademie. Lichtenfels is a picturesque town in the upper valley of the river Main with a convenient connection to the highspeed ICE train system of the Deutsche Bahn.
Thank you for making this meeting a success:
Organizing Committee
Heike Feldhaar, University of Bayreuth
Simon Tragust, University of Bayreuth
Oliver Otti, University of Bayreuth