Eddy-covariance software TK3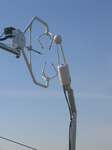 Softwarepaket TK3 (Verbesserung des Programms TK2) zur Auswertung und Korrektur von Eddy-Kovarianz-Daten. Für weitere Informationen steht eine Dokumentation zur Verfügung. Die Nutzung der Software erfordert eine Registrierung. Der Quellcode des QA/QC moduls kann über weiteren Link geladen werden. Bitte laden (nicht öffnen) Sie den TK3.11.pdf file herunter und benennen Sie ihn in "exe" um. Der Parameter-File kann mit einem Editor geöffnet werden.
---
Lizenz
Permission to use this software and its documentation for any purpose, without fee, and without a written agreement is hereby granted.
IN NO EVENT SHALL THE UNIVERSITY OF BAYREUTH BE LIABLE TO ANY PARTY FOR DIRECT, INDIRECT, SPECIAL, INCIDENTAL, OR CONSEQUENTIAL DAMAGES, INCLUDING LOST PROFITS, ARISING OUT OF THE USE OF THIS SOFTWARE AND ITS DOCUMENTATION, EVEN IF THE UNIVERSITY OF BAYREUTH HAS BEEN ADVISED OF THE POSSIBILITY OF SUCH DAMAGE. THE UNIVERSITY OF BAYREUTH SPECIFICALLY DISCLAIMS ANY WARRANTIES, INCLUDING, BUT NOT LIMITED TO, THE IMPLIED WARRANTIES OF MERCHANTABILITY AND FITNESS FOR A PARTICULAR PURPOSE. THE SOFTWARE PROVIDED HEREUNDER IS ON AN "AS IS" BASIS, AND THE UNIVERSITY OF BAYREUTH HAS NO OBLIGATIONS TO PROVIDE MAINTENANCE, SUPPORT, UPDATES, ENHANCEMENTS, OR MODIFICATIONS.
---
Dateien
Beispiel-File (20948 k)
Dokumentation (1642 k)
Paper: Mauder et al. (2013) (1049 k)
TK3.11_File (4240 k)
TK3.11_Parameter_file (48 k)
---
<< zurück zur Liste