EU: Natural Europe
ICT (3)
From 10/2010 to 09/2013

Staff: Sabrina Sattler


Natural Europe: Natural History & Environmental Cultural Heritage in European Digital Libraries for Education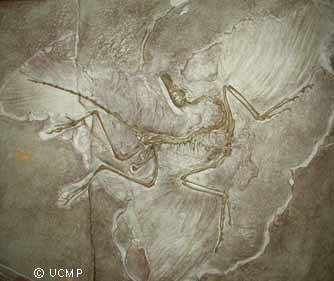 Archaeopteryx, sometimes referred to by its German name Urvogel ("original bird" or "first bird"), is the earliest and most primitive bird known. The name is from the Ancient Greek ἀρχαῖος (archaios) meaning "ancient", and πτέρυξ (pteryx), meaning "feather" or "wing"; Archaeopteryx lived in the late Jurassic Period around 150–145 million years ago, in what is now southern Germany during a time when Europe was an archipelago of islands in a shallow warm tropical sea, much closer to the equator than it is now.
In an era where natural history and environmental education inadequacy in formal and informal contexts is becoming an increasingly challenging issue, harvesting the potential of European digital libraries appears as a very attractive option. However, an impressive abundance of high quality digital content that is available in Natural History Museums around Europe remains largely unexploited due to a number of barriers, such as: the lack of interconnection and interoperability between the storage systems of Natural History Museums, the lack of centralised access through a European point of reference like Europeana, as well as the inefficiency of current content organization and the metadata used. The Natural Europe project suggests a coordinated solution at European level in order to overcome the aforementioned barriers. More specifically, Natural Europe aims to deliver the following services/solutions:
a)      connect the digital collections of European Natural History Museums with European, helping them overcome obstacles such as the lack of interoperable systems and metadata;
b)      study the educational methods and deploy the necessary software tools that will allow educators to design innovative online pathways through the digital collections of Natural History Museums;
c)      design and deploy novel graphical interfaces that will facilitate the navigation of educational pathways within digital collections, both from European and the Museum's Web sites;
d)      adapt and test innovative interactive installations at the Natural History Museums that will allow visitors to follow educational pathways through European's content on Natural History and Sciences, as part of the Museums' exhibition;
e)      evaluate and validate the delivered services/solutions through extensive pilot trials with project-internal and external organisations and user groups.
To implement the Natural Europe vision, the consortium brings together a balanced mix of high quality natural history museums, pedagogues, educational technologists, metadata experts, user groups and standardization bodies. After the approach is tested through a set of "proof-of-concept" experiments that will try out the different theoretical approaches, it will extensively validate the proposed approach in real-life usage contexts employing the user groups represented in the consortium. Through the significant networking capacity of the Natural Europe consortium, the overall aim is to achieve a pan-European standardization process in the field of engaging the cultural heritage of Natural History Museums of Europe and the European infrastructure, in order to enhance natural history and environmental education.
Download of evaluation documents

 

Homepage: http://www.natural-europe.eu/