FIMIN workshop on environmental iron microbiology
Mo. 2012-01-16-Sa. 2012-01-21, University of Manchester and University of Bangor
Contact:
David Barrie Johnson
,
Jon Lloyd
,
Stefan Peiffer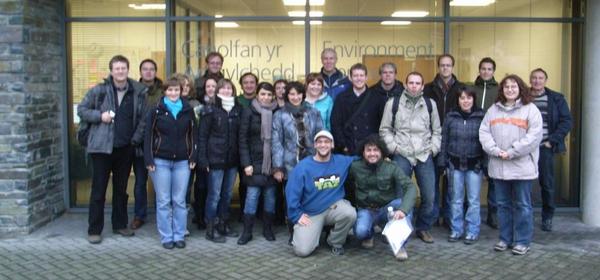 This 5 day residential course in the UK was split between two university groups with longstanding interests in the geomicrobiology of iron.
The first half of the course was spent at the University of Manchester, based in the Williamson Research Centre for Molecular Environmental Science, focusing on redox cycling of Fe in neutral/alkali pH environments, covering Fe(III) reduction and Fe(II) oxidation and also Fe uptake and cellular metabolism in microbial systems.
The second half of the course was based in the University of Bangor and hosted by the Bangor Acidophile Research Team (BART) and focused on redox cycling of Fe at acidic pH, covering both Fe(II) oxidation and Fe(III) reduction, with an emphasis on AMD environments.
Both the Manchester and Bangor teams, with the support of other invited internationally recognized experts in Fe geomicrobiology, delivered a series of lectures, practical exercises and demonstrations, supported by fieldwork to cover the following:
culturing techniques
molecular ecology techniques
genomic and post-genomic approaches
mineralogical and geochemical techniques
environmental impact and biotechnological applications
-> Scientific Report on the Workhop
Target Group:
The course was suited to researchers working on all aspects of the microbial Fe cycle (PhD students and postdocs), places were provided for 15 participants.
Export as iCal: