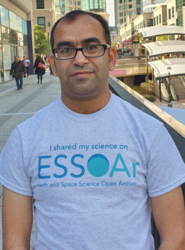 Faisal Hayat
Doctoral Fellow

Phone: +49(0)921-552331
Room: GEO I, 113
e-Mail: Faisal.Hayat(at)uni-bayreuth.de



Key Work Areas
Development of Pressure chamber technique for measuring leaf xylem potential and root water uptake at varying environmental conditions.
Estimation of overall hydraulic properties of soil-plant continuum and relative distribution of water uptake using tracers.

I am interested in understanding the plants behavior under heterogeneous soil water contents. Particularly, my current research focus is on leaf water potential, root water uptake and hydraulic redistribution, with an emphasis on plant hydraulics.


>> Curriculum Vitae
>> Projects