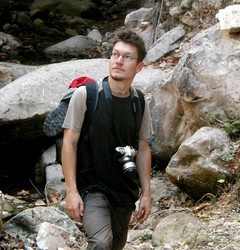 Dr.

Stefan Küchler
Akademischer Rat

Phone: 0921-55-2733
Room: NW I, 5.00205
e-Mail: stefan.kuechler(at)uni-bayreuth.de



Research Interests:
Most hemipteran insect are associated with obligate, endosymbiotic microorganisms that are often linked with the monophagous nutrition of their hosts. Depending on the localization of the obligatory endosymbionts in the host body, three superordinate, structurally different forms of endosymbiosis can be distinguished from each other: (1) the extracellular accommodation of the endosymbionts in the gut lumen, (2) the extracellular accommodation of the endosymbionts in specific sections of the midgut, so called crypts (primarily Heteroptera), and (3) the intracellular accommodation of the endosymbionts in specific organs, referred to as bacteriomes or mycetomes.
My research interest focuses in bacteriome-associated endosymbiosis in the hemipteran subgroups Heteroptera (true bugs) and Coleorrhyncha (moss bugs). Especially representatives of the superfamily Lygaeoidea (Heteroptera: Pentatomomorpha) offer numerous  bacteriome-associated endosymbiosis that are clearly different from each other. The structure and localization of the bacteriomes as well as the contained endosymbionts exhibit a significant variance. Such a variety of different endosymbioses in such closely related insect hosts could be detected only in few insect groups so far.
Graphical summary of different endosymbiotic systems in superfamily Lygaeoidea (Heteroptera, Pentatomomorpha).

 

My current research focuses on:

(1) Screening and characterization of endosymbiosis in different species of Lygaeoidea and other heteropteran bugs.

(2) Analysis of functional roles of the endosymbionts in Heteroptera and Coleorrhyncha.



>> Publications
>> Courses taught