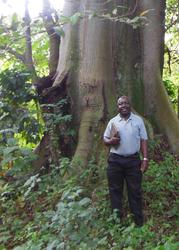 Prof. Dr.
John C. Onyango
Coordinator
Phone: +254 (0)722 659155
e-Mail:
jconyango(at)yahoo.com
Maseno University
P.O. Private Bag 40105
Maseno
Kenya
http://www.maseno.ac.ke/
---
Maseno University Botanic Garden

---
Director of Maseno University Botanic Garden
Prof. Onyango established the University Botanic Garden, Maseno, as a Research Infrastructure and Centre for Ethno-botanical Plant Conservation in the Tropics of self sourced research funds from the Federal Ministry of Education and Research [BMB+F], Germany. The garden is a centre piece development for the university and compares to none in this region. It is a member of Botanic Gardens Conservation International with headquarters at the Royal Botanic Gardens, Kew, U.K.
Research Fields:
Crop plant stress physiology, agronomic and cultural methods of producing grain cereals with emphasis to upland rice (Oryza sativa L.)
Screening for agronomic potential of the indigenous rainfed landraces of rice (Oryza sativa L.) and traditional vegetables germplasm collection in Kenya
Eco-physiological and agronomic evaluation of rainfed landraces of rice (Oryza sativaL.) indigenous to Kenya
Adaptive technology in traditional (indigenous) vegetables and crop plants production and usage
Economic use of wetlands for food production at minimum input level technology
Biological control of Water Hyacinth through its physiological reproductive biology and predator/pray responses
National impartial development strategy of infrastructure and human resources  
Moist savanna in Ruma National Park
Ecosystem biodiversity and indigenous knowledge conservation for sustainable development
Ecological systematics and vegetation analysis of high mountains of Kenya: Mount Kenya, Mount Elgon and Mau forest
Croton species - an indigenous tree with great potential in Kenya as lubricants and medicinal
Projects:
>>
Curriculum Vitae
>>
Publications