GCE Blog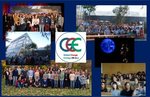 Master Global Change Ecology - 2019 in Review
In their blog, GCE students share their experiences with others. Insights in intergovernmental negotian processes on the protection of biodiversity and climate make up a big part, as GCE students have the unique opportunity to participate and "observe" international conferences on these topics, like the Seventh plenary session of the Intergovernmental Platform on Biodiversity and Ecosystem Services 2019 in Paris. Besides, you can learn about GCE activities, do-it-yourself climate action and enjoy wild facts and opinions.
>>Link...
Conferences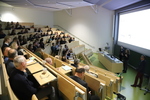 Rückblick: Minisymposium "Stadt, Land, Klimawandel"
Das Minisymposium auf der Jahrestagung Geoökologie Ende November griff je zwei Themen zum Klimawandel in ländlichen Gebieten und in Städten auf und war ein gelungenes Austauschforum - auch für Stakeholder aus Stadt und Region. Die Moderation lag bei Prof. Dr. Stefan Peiffer, Hydrologie, BayCEER / Uni Bayreuth. Er ist Sprecher des Verbundprojekts "Einfluss multipler Stressoren auf Fließgewässer im Klimawandel (AquaKlif)" im Bayerischen Klimaforschungsnetzwerk bayklif, das Vortragende und Themen zum Symposium beitrug.
>>more...
Research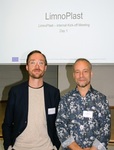 Europe-wide research project: Microplastics in rivers and lakes
On 25 November the official go-ahead was given for the "LimnoPlast" EU research and training project on the distribution of microplastics in European rivers and lakes. This "Innovative Training Network (ITN)", which is funded for four years to the tune of almost €4.1 million by the EU out of its "Horizon 2020" programme in the framework of the Marie Skłodowska Curie measures. It is supported by 13 universities, research institutions and partners from industry from eight European countries, and coordinated by Prof. Dr. Christian Laforsch of the University of Bayreuth. His deputy, is Prof. Dr. Martin Wagner, NTNU Trondheim/Norway.
>>Link...
---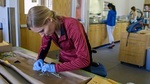 Rice production in times of global warming
Researchers at the Universities of Stanford, Tübingen, and Bayreuth predict that harvests of rice, the world's most important staple food, will decline significantly more than previously expected, and that its arsenic content will rise sharply under future climatic conditions. They present the results of their research in the journal "Nature Communication". According to Prof. Dr. Britta Planer-Friedrich, co-author and head of the Environmental Geochemistry, BayCEER / University of Bayreuth, understanding the absorption routes and conversions of arsenic in rice plants and being able to advise on breeding and agriculture is an important goal of research of the group.
>>Link...
Rankings & Awards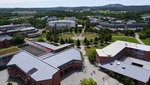 Outstanding placings for the University of Bayreuth in global sustainability ranking
The University of Bayreuth is one of the world's leading universities when it comes to sustainability. In the "UI GreenMetric World University Ranking 2019" it came 26th in the global comparison, and third in Germany. A total of 780 universities from 85 countries took part in this ranking based exclusively on sustainability criteria and published annually by Universitas Indonesia in Jakarta since 2010. The good result of the UBT was significantly supported by the GreenCampus platform. An integrated, socially balanced and ecologically ambitious sustainability strategy for the University of Bayreuth is currently being developed for 2020, involving all stakeholders.
>>Link...
---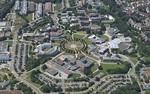 University of Bayreuth among the world's top young universities
The University of Bayreuth is in the top group of the "Nature Index 2019 Young Universities". This global ranking lists universities and research institutions younger than 50 years of age according to their share of publications in cutting-edge scientific research. In the ranking of the world's 175 best young universities, the University of Bayreuth was placed 21st. This puts it in second spot among young universities in Germany. The breakdown by subject group shows that the University of Bayreuth is one of the world's leading young institutions in "Earth & environmental sciences". Here it achieved seventh place out of a total of 25 listed institutions.
>>Link...
---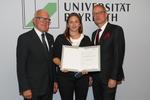 Universitätsverein Science Award to Professor Dr. Johanna Pausch
The Universitätsverein Science Award for outstanding academic achievements in the promotion of early-career scholars at the University of Bayreuth goes to Professor Dr. Johanna Pausch. Since her appointment to the Junior Professorship for Agroecology (Tenure Track) in May 2017, Johanna Pausch has succeeded in establishing a considerable working group with a focus on rhizosphere research, raising funds for a number of research projects, and launching new research initiatives at the BayCEER.
>>Link...