Events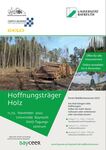 Forum Waldkontroversen 2022: Hoffnungsträger Holz
Das vierte Forum Waldkontroversen dreht sich am 11. und 12. November 2022 nach pandemiebedingter Pause um den "Hoffnungsträger Holz": Als CO2-Speicher in Wäldern und Baustoffen schützt Holz das Klima. Als nachwachsender Energieträger und Brennstoff hilft es, Öl und Kohle zu ersetzen. Als Totholz im Wald verbleibend bietet es Lebensraum zum Erhalt der Artenvielfalt. Wie berechtigt sind alle diese Hoffnungen, und was ist zu tun? Mehr zu Programm, Gästen und Anmeldung unter:
>>Link...
---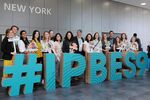 Engagement in the "Intergovernmental Science-Policy Platform IPBES
At the beginning of July, 22 students of the Master's program Global Change Ecology participated in the 9th Plenary of the "Intergovernmental Science-Policy Platform on Biodiversity and Ecosystem Services (IPBES)" in Bonn. They were able to directly participate in the negotiations of the 139 countries on the sustainable use of wild species and the value of nature, and actively helped in the conference management. BayCEER member Dr. Stephanie Thomas is one of the lead authors in Chapter 3 of the "Nexus assessment" on the interactions between biodiversity, water, food, and health.
>>Link...
News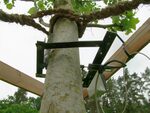 Live in Bayreuth: Messdaten zum Baumwachstum
Seit März 2022 kann man fünf verschiedenen Baumarten live beim Wachsen zuschauen. Dazu wurden je ein junger Baum von Blumen-Esche, Französichem und Spitz-Ahorn, Silber- und Winter-Linde am Weg der Artenvielfalt sowie ältere Exemplare im Ökologisch Botanischen Garten (ÖBG) mit Dendrometern ausgestattet. Ziel ist es, anhand der Messdaten das Wachstumsverhalten und die Anpassung an Trockenheit zu vergleichen.
>>more...
Research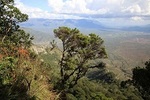 Global study explores and weights causes of tree species diversity
The number of tree species growing in regions close to the equator is significantly higher than in regions further north and south of the earth. An international study published in "Nature Ecology and Evolution" investigates the causes of this with a precision never before achieved. It emphasizes that the diversity of tree species in the tropics does not depend solely on bioclimatic factors. The study is based on a cooperation of 222 universities and research institutions. On the part of the BayCEER / University of Bayreuth, PD Dr. Andreas Hemp, who has been researching vegetation in mountainous regions of East Africa for more than 30 years, was involved in this international research.
>>Link...
---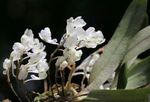 New orchid species in the mountains of Tanzania discovered
Bayreuth biologist PD Dr. Andreas Hemp has discovered a previously unknown orchid species of the genus Rhipidoglossum in northeastern Tanzania. Together with his British colleague Dr. Phil Cribb from the Royal Botanical Gardens in Kew, London, he has scientifically described it in the journal "Kew Bulletin". The new species was named Rhipidoglossum pareense, in keeping with its location in the South Pare Mountains.
>>Link...
Rankings & Awards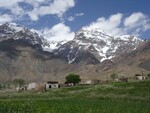 Bayreuth graduate awarded for groundbreaking dissertation on climate change research
The geographer Dr. Isabell Haag has been awarded the Wladimir Köppen Prize 2021 of the Cluster of Excellence for Climate Research CLICCS for her dissertation written in the Research Group of Climatology at the University of Bayreuth. She received the award, which is endowed with 5,000 euros, at the University of Hamburg on July 4, 2022. In her award-winning work, she uses the example of two villages in the Pamir Mountains in Tajikistan to show how linking different knowledge systems can advance international research on global climate change.
>>Link...