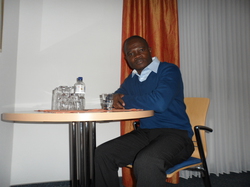 M.Sc.
Victor Odipo Onyango
Doctoral student
e-Mail:
victor.onyango(at)uni-jena.de
Friedrich Schiller University Jena
Grietgasse 6
07743 Jena
Germany
https://www.uni-jena.de/
---
Department of Earth Observation
---
PhD project title:
"Spatio-temporal and structural analysis of vegetation dynamics of tropical savanna ecosystems in Southern Africa." (BMBF funded ARS AfricaE Project)
The project focuses on the tropical savanna ecosystem resilience in the face of threats from climate, mainly precipitation, herbivory and the shrub-tree coexistence complexity, with focus on biogeochemical interactions around eddy covariance Flux towers (in Kruger NP and Mokala in SA, and Mongu in Zambia).
Research Fields:
Biogeochemical interactions
Research Areas:
Kruger NP and Mokala in South Africa
>>
Curriculum Vitae