News
Vote now for Klimawald Bayreuth!
You were there last year carrying watering cans to the young trees? You read or heard about the project? In March, the "Klimawald Bayreuth" was nominated for the Blauer Kompass of the German Federal Environment Agency - as one of 15 out of 160 proposed measures that will make a concrete contribution to counteracting the consequences of climate change in the coming decades. With your help, the Klimawald could win the Audience Award: Click here to join the Online Voting! One vote per day is possible until April 20.
>>more...
---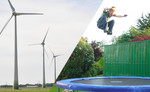 Infraschalldebatte: Hintergründe und Messbeispiele
Als Argument gegen Aufstellung und Betrieb von Windenergieanlagen erhitzt Infraschall die Gemüter engagierter Bürger. Aber was ist Infraschall eigentlich? Wie lässt sich Infraschall messen? Welche Quellen gibt es, und ab welcher Intensität können Menschen ihn wahrnehmen? Hintergründe und Beispiele hat Dr. Stefan Holzheu, Experte für Sensordatenerfassung und -verarbeitung am BayCEER / Universität Bayreuth, zusammengestellt. Für "Maker" gibt es außerdem eine Anleitung zum Bau eines eigenen Infraschall-Messgeräts.
>>Link...
---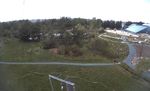 Outdoor area of the ÖBG remains open for visitors
Even if the events are cancelled and the greenhouses remain closed, the generously proportioned outdoor area of the Ecological-Botanical Garden can still be visited: for walks, for relaxation, and for springtime discoveries on every corner! Opening hours and further information:
>>Link...
---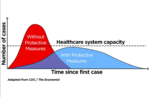 Stay safe and sound in quiet times
On 12 March teaching stopped at the University of Bayreuth, from 20 March we are all working from home as far as possible. Research at BayCEER will continue here - on a smaller scale, but perhaps with more time for developing ideas, evaluating data and reading up on the latest results. We wish everyone in the BayCEER and you as reader of these lines stay safe and flatten the curve! Here you can find the latest news from the university related to the coronavirus pandemic:
>>Link...
Books & literature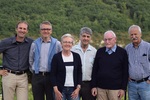 New edition: Plant Ecology
In December 2019 a completely updated and revised second edition of "Plant Ecology" was published (by Springer). As reference for students, researchers and practitioners, the book comprises molecular ecophysiology, physiological and biophysical plant ecology, ecosystem ecology, community ecology and biological diversity as well as global ecology. All of the six authors have worked or still contribute to research in the focus area Ecology and the Environmental Sciences at the University of Bayreuth.
>>more...
Rankings & Awards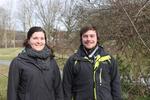 Escape Room für mehr Nachhaltigkeit
Thomas Schmitt und Rebekka Riebl aus der Arbeitsgruppe Ökologische Dienstleistungen im BayCEER sind eines der 15 Gewinnerteams im bundesweiten Hochschulwettbewerb "Zeigt eure Forschung!" zum Thema Bioökonomie. Sie wurden für ihr Konzept eines "Escape Rooms" ausgezeichnet, der Jugendliche und Erwachsene für die Notwendigkeit einer stärkeren Verknüpfung von Ökonomie und Ökologie sensibilisieren soll. Mit dem Preisgeld von 10.000 Euro werden sie ihr Konzept in den nächsten Monaten in die Praxis umsetzen.
>>Link...
---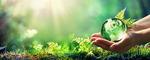 Call: UBT Sustainability Award 2020 for final thesis projects
The University of Bayreuth's Governing Board and GreenCampus, in cooperation with the Universitätsverein Bayreuth, are once again awarding a Sustainability Award for final thesis projects. Honoured will be outstanding and forward-looking bachelor's or master's theses or equivalent academic achievements on research topics oriented toward the United Nations' goals of sustainable development and dealing theoretically or practically with securing sustainable ecological development. The closing date for applications is 15 September 2020.


>>Link...
guests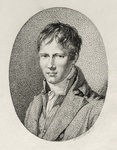 Auf Einladung der Universität Bayreuth: Gäste im BayCEER
Nach den ersten Ausschreibungen des Bayreuth Humboldt Centre steht fest, wer als Senior/Junior Fellow oder im Rahmen eines Short Term Grants die Universität Bayreuth besuchen wird. Ziel der Besuche ist die Arbeit an vielversprechenden Forschungskooperationen mit Bayreuther Wissenschaftlerinnen und Wissenschaftlern. Gleich vier der Gäste aus der ersten Runde werden - sobald die epidemische Lage es wieder erlaubt - in Arbeitsgruppen des BayCEER erwartet.
>>more...
Research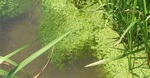 P-TRAP: Recycling von Phosphor aus Oberflächengewässern
In Deutschland haben etwa zwei Drittel der Gewässer durch Bodendüngung zu hohe Phosphorgehalte. Die Folge: übermäßiges Wachstum von Algen und Wasserpflanzen, die dem Gewässer Sauerstoff entziehen und dadurch das Ökosystem gefährden. Gleichzeitig ist Phosphor eine kostbare Ressource. Als European Training Network (ETN) will das EU-Projekt P-TRAP neue Methoden und Ansätze entwickeln, um Phosphor aus Gewässern zurückzugewinnen und damit drei Fliegen mit einer Klappe schlagen: Gewässerschutz, Ressourcenrückgewinnung und Aufbau einer Kreislaufwirtschaft.
>>more...
---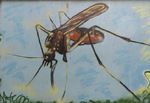 Vector-borne diseases: effects of biodiversity?
How does the diversity of viruses, mosquito species and their hosts influence the risk of disease transmission? And how do climate and other environmental factors affect their biodiversity? The new research project "DiMoC - Diversity Components in Mosquito-borne Diseases in Face of Climate Change" addresses these questions. The international project is funded for three years by the EU Biodiversa-Programme , coordinated by Prof. Dr. Carl Beierkuhnlein and Dr. Stephanie Thomas from the Department of Biogeography, BayCEER / University of Bayreuth.
>>more...
---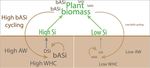 Ernährung sichern: Silizium erhöht Wasservorräte für Pflanzen
Infolge des Klimawandels ist künftig mit häufigeren und längeren Dürreperioden verbunden mit Erneausfällen zu rechnen. Ein Team um Dr. Jörg Schaller, der vor kurzem vom BayCEER ans Leibniz-Zentrum für Agrarlandschaftsforschung wechselte, und Prof. Dr. Andrea Carminati, Bodenpysik/BayCEER, hat ein potentielles Gegenmittel entdeckt: Amorphes Silikat ist in der Lage, die für Pflanzen verfügbaren Wasservorräte in den Böden erheblich zu steigern. Damit bietet sich eine Chance, die weltweite Ernährungssicherheit trotz des Klimawandels zu stärken. In der Zeitschrift "Scientific Reports" plädieren die Forscher für eine nachhaltige Bewirtschaftung von Böden, die einen höheren Gehalt von amorphem Silikat gewährleistet.
>>Link...
---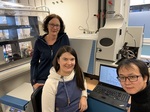 New arsenic compounds: Risk or opportunity for rice cultivation?
University of Bayreuth researchers, together with scientists from Italy and China, have for the first time systematically investigated under which conditions, and to what extent, sulphur-containing arsenic compounds are formed in rice-growing soils. To date, these thioarsenates have not been taken into account in assessments of the health effects of rice consumption. In the journal "Nature Geoscience" the The team, headed by the Bayreuth environmental geochemist Prof. Dr. Britta Planer-Friedrich, presents the results and identifies the urgent need for research with a view to protecting consumers from health risks.
>>Link...
---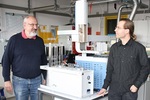 Underestimated: Fungi as food source for plants
The number of plant species that extract organic nutrients from fungi could be much higher than previously assumed. This was discovered by researchers from the BayCEER Laboratory of Isotope Biogeochemistry and the University of Copenhagen through isotope investigations on Paris quadrifolia, otherwise known as Herb Paris or True Lover's Knot. This forest-floor plant, which is widespread in Europe, is regarded in botany as a prototype for plants that have a specific exchange relationship with fungi, which in fact accounts for around 40 percent of all plant species. In "The New Phytologist" journal, the scientists report on their surprising results.
>>Link...