GCE Blog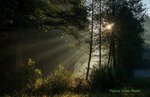 How will the forest deal with climate change?
On Friday, 19th October, it was all about trees at the "Forum Waldkontroversen" conference in Bayreuth, jointly organized by the Ecological-Botanical Garden, the Campus Akademie and BayCEER. In the GCE Blog - published by students on subjects of the Master programme Global Change Ecology - Leonie Fößel describes the controversial topics the four speakers presented: Climate change in the region, possible forestry reactions, pests and tree diseases as well as nature conservation and climate protection options. The conference continued with a panel discussion and an excursion on the next day.
>>Link...
Workshops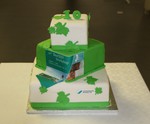 In Retrospect: BayCEER Workshop 2018
At the 10th BayCEER Workshop over 100 participants from 22 disciplines presented and discussed their research. Many students form the master study programs Geoecology, Global Change Ecology and Environmental Chemistry attended the workshop. After the awards ceremony all participants celebrated the workshop´s 10th anniversary with a BayCEER-themed birthday cake.
>>Link...
News

Umweltpreis der Stadt Bayreuth für Pedro Gerstberger
Der Umwelt- und Naturschutzpreis 2018 der Stadt Bayreuth geht an den ehemaligen wissenschaftlichen Mitarbeiter am Lehrstuhl für Pflanzenökologie der Universität Bayreuth, Dr. Pedro Gerstberger. Dies hat der Stadtrat in seiner jüngsten Sitzung beschlossen. Dr. Gerstberger arbeitet seit vielen Jahren an Alternativen zum Maisanbau und engagiert sich privat auf vielen Ebenen für den Naturschutz.
>>Link...
---

Exzellenzcluster 'Afrika Multipel'
Großer Erfolg für die Universität Bayreuth: Die Bayreuther Afrikaforschung wurde vom internationalen Expertengremium und den Wissenschaftsministern von Bund und Ländern Ende September zum Exzellenzcluster gekürt. "Afrika Multipel" erforscht die kontinentalen und transkontinentalen Verflechtungen kultureller, sprachlicher, sozialer, religiöser, politischer, ökonomischer und ökologischer Prozesse. Aus dem Profilfeld Ökologie und Umweltwissenschaften wirkt Prof. Cyrus Samimi, Arbeitsgrupee Klimatologie, mit.
>>Link...
---

Im Fokus: "Planet Erde"
Mit ihren Profilfeldern wirkt die Universität Bayreuth in vielerlei Hinsicht an der Erforschung unseres Planeten mit. Die neue SPEKTRUM-Ausgabe zeigt, dass grundlagenorientierte Forschung häufig eng verzahnt ist mit konkreten Problemlösungen – sei es in der Klima- und Wetterforschung, im Naturschutz, der Entwicklung neuer Materialien oder der Raumfahrt. Ein Dutzend Arbeitsgruppen aus dem BayCEER berichtet hier aus aktueller Forschung.
>>Link...