News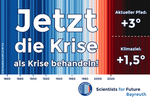 Weltweiter Klimastreik - auch in Bayreuth
"Warum auf eine Zukunft bauen, die bald nicht mehr lebenswert sein wird?" Die Antwort der Fridays for Future-Bewegung auf diese Frage sind Klimastreiks für eine wirkungsvolle Politik, die dem Ausmaß der Klimakrise gerecht wird. Über 26.000 Wissenschaftler*innen im deutschsprachigen Raum geben ihnen Recht und unterstützen ihre Forderungen an die Politik. In Deutschland steht der Klimastreik am Freitag, 24.9. ganz im Zeichen der Bundestagswahl, in Bayreuth beginnt er um 13 Uhr in der Maxstraße.
>>more...
Rankings & Awards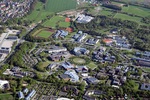 University of Bayreuth enjoys good reputation worldwide in environmental sciences
Sustainability and environmental issues are an important topic at the University of Bayreuth. Numerous study programmes and focus topics in this forward-looking field are shaping both teaching and research in Bayreuth. Recent international rankings prove that the University is renowned worldwide in this regard. In fact, both the QS World University Subject Ranking and the Shanghai Ranking give it top marks in the environmental sciences.
>>Link...
Research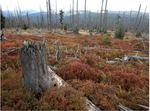 Nature based solutions in the face of climate extremes
Natural hazards resulting from climate change are increasing in frequency and intensity. Adaptation to the expected future impacts of extreme weather events appears inevitable. Coping strategies are urgently required. In view of the complexity of the current challenges, Prof. Dr. Carl Beierkuhnlein calls for nature-based solutions to be implemented to avoid severe damage in a forum article for the journal "Erdkunde". Embracing biodiversity at the entire scale of catchments across ecosystems and land use into disaster prevention should be seen as paramount for cost effective and efficient protection of the society.
>>more...
Events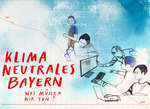 Klimaneutrales Bayern: Jahreskolloquium des Bayerischen Wissenschaftsforums
Das BayWISS-Jahreskolloquium widmet sich 2021 einem Thema, das aktueller kaum sein könnte: "Klimaneutrales Bayern. Was können wir tun?", ist die Fragestellung, unter der sich Expert*innen aus den 31 Mitgliedshochschulen von BayWISS am 7. Oktober in Bayreuth treffen. Dort wird ein Überblick über den Stand der Klimaforschung in Bayern gegeben und informiert, welche Möglichkeiten die Universitäten und Hochschulen für angewandte Wissenschaften sehen, den Wandel zur Klimaneutralität positiv zu beeinflussen. Programm und Anmeldung (bis 24.9.) unter:
>>Link...
Research

Climate history study: Cooling periods cause evolutionary surges
Temperatures on Earth have had a significant influence on the course of evolution. A particularly high number of new species of marine animals emerged after geologically short cooling periods that had already been preceded by a much longer cooling period. This is the conclusion reached by researchers from the BayCEER / Universities of Bayreuth and Erlangen-Nuremberg in a new study that has now been published in the journal PNAS. By combining empirical data and computer simulations, they have found that the influence of rapid climate change on biodiversity is significantly influenced by longer-lasting climate trends in previous periods of the Earth's history.
>>Link...
---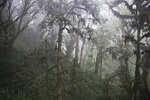 Significant carbon storage in African mountain forests
The tropical mountain forests of Africa store more carbon per hectare in their above-ground biomass than all other tropical forests on earth. With this great storage capacity, which was previously estimated by the Intergovernmental Panel on Climate Change (IPCC) to be considerably lower, they have made a major contribution to climate protection. This is the conclusion of a study published in Nature by an international network of researchers who are urging for the preservation of these carbon-rich ecosystems. Dr. Andreas Hemp from the University of Bayreuth and his team investigated carbon stocks in the mountain forests of Kilimanjaro.
>>Link...