Studies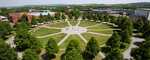 Supplementary Course in Sustainability for all Students
Starting in the 2021 summer semester, students of all disciplines enrolled at the University of Bayreuth will be able to take the new Supplementary Course of Study in Sustainability. The supplementary programme is an initiative resulting from the sustainability strategy of the University of Bayreuth, and expands the range of courses with relevance to sustainability. The programme comprises 30 ECTS points, and a graded final certificate is issued upon passing. Deadline for enrolment for the current summer semester is 10 May. Programme moderator is BayCEER member Manuel Steinbauer.
>>Link...
News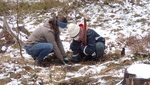 Klimawald: Pflanzaktion im Schnee fürs Bayreuther Trinkwasser
Weder Schnee noch Graupel konnten die Engagierten des Klimawald Bayreuth abhalten: Mitte April pflanzten sie am Grassemann auf einer Sturmbrache im Wasserschutzgebiet der Bayreuther Trinkwasserquellen sechs neue Baumarten, insgesamt 1000 Pflanzen. Gemeinsam mit den Stadtwerken Bayreuth werden sie beobachten, wie sich der junge Wald in 700m Höhe entwickelt. Bei Wind und Wetter mit gepflanzt haben - abgesichert durch Selbsttests und Masken - rund zwei Dutzend Studierende. Mehr zu den Hintergründen der Aktion im Tagesanzeiger der Kommunalwirtschaft:
>>Link...
---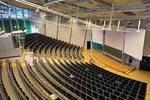 German universities paid about €6 million for Zoom in 2020
In der Corona-Pandemie sind Präsenzveranstaltungen für Hochschulen kaum möglich. Sie müssen in den digitalen Raum ausweichen. Aber zu welchen Anbietern? Viele Unis setzen auf den US-Anbieter "Zoom", trotz massiver Sicherheits- und Datenschutzlöcher. FragdenStaat hat hierzu Informationsfreiheitsanfragen an alle deutschen Universitäten und Hochschulen gestellt. Nicht alle Einrichtungen haben geantwortet, jedoch kann von einer Summe von ca. 6,4 Mio. € ausgegangen werden.
>>Link...
---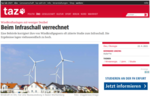 BGR korrigiert Schalldruckpegel
Die von der Bundesanstalt für Geowissenschaften und Rohstoffe (BGR) publizierten Infraschallpegel waren ein Hauptargument von Windkraftgegnern, um Stimmung gegen die Windenergie zu machen. BayCEER Mitglied Stefan Holzheu hatte vor einem Jahr große Unstimmigkeiten im Vergleich zu anderen Messungen festgestellt. Trotzdem weigerte sich die BGR bis vor einer Woche, den Fehler zuzugeben. Der Fehler ist gewaltig: Bezogen auf Schallleistung ein Faktor 10.000. Durch großen Druck aus der Wissenschaft, sah sich die BGR jetzt zu einer Richtigstellung gezwungen. Sowohl die Zeit als auch die taz berichten ausführlich darüber.
---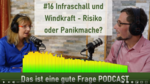 Infraschall und Windenergie
BayCEER-Mitglied Stefan Holzheu hat bei einem Podcast von Volker Quaschning mitgewirkt, nachdem er sich schon seit einiger Zeit mit der Thematik Infraschall und Windenergie auseinandergesetzt hatte. Prof. Quaschning ist ein Ingenieurwissenschaftler und Professor für Regenerative Energiesysteme an der Hochschule für Technik und Wirtschaft in Berlin. Er ist einer der bekanntesten Gesichter der Scientist4Future und war einer der Sprecher in der Pressekonferenz zur Vorstellung der initialen Stellungnahme, die von über 26800 Wissenschaftlern unterzeichnet worden ist - darunter viele BayCEER-Mitglieder.
>>Link...
Research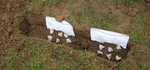 Exploring the soil under your feet with buried tea bags and undies?
Franz Bender and Marcel van der Heijden, researchers at Agroscope (Swiss centre of excellence for agricultural research) and the University of Zurich have launched the largest citizen science project to date to research soil quality in Switzerland. For this purpose, private gardeners and farmers are to bury 1000 pairs of pants in their fields, meadows and beds using a somewhat unusual method, following the motto "the more decomposed the pants, the healthier the soil".
>>more...
---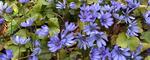 The colour blue in the world of flowers: International study explores its rarity
Blue is the favourite colour of more people in the world than any other, and the "blue flower" is considered a symbol of romantic longing. In nature, however, there are only a few plant species whose flowers contain blue colour pigments. An international research team led by Bayreuth ecologist and BayCEER member Anke Jentsch has investigated the reasons for this. One important factor is the great chemical effort required to produce blue dyes, however differing colour perception of pollinators also plays a role. For bees, all the shades of blue assume a more conspicuous share in the colourfulness of flowers than they do for the human eye. The scientists present their study in the journal "Frontiers in Plant Science".
>>Link...
---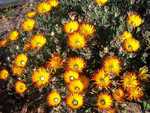 Plants adapt their photosynthesis to unpredictable climatic conditions
The uptake of CO₂ from the air is an essential process of plant photosynthesis. In dry areas, some plants shift this process to the night so that they can keep their stomata closed during the day and thus reduce the evaporation of water. To do this, they possess a special photosynthesis mechanism (Crassulacean acid metabolism, CAM). The extent to which plants use this mechanism for their energy balance depends, in part, on the unpredictability of precipitation. Scientists from the University of Bayreuth, the University of Hohenheim, and Stellenbosch University in South Africa report on this in the journal "New Phytologist".
>>more...
Events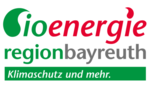 Strategie des Lkr. Bayreuth zur Anpassung an die Folgen der Erderwärmung: Online-Auftaktveranstaltung am 5.5.2021
Die Folgen der globalen Erderwärmung sind auch in unserer Region bereits spürbar. Der Landkreis Bayreuth hat daher die Erstellung einer Strategie mit konkreten Maßnahmen-vorschlägen zur Anpassung an die Folgen der Klimakrise in Auftrag gegeben. Die ersten Zwischenergebnisse liegen bereits vor und unterstreichen den dringenden Handlungsbedarf. Die regionalen Klimaprognosen sowie die Handlungsfelder, die nach den Modellrechnungen am stärksten von der Erderwärmung betroffen sind, werden im Rahmen einer
Online-Auftaktveranstaltung
am Mittwoch, 5. Mai, von 14-16 Uhr vorgestellt - hier geht es zur
Anmeldung
. Gesucht werden ausserdem Interessierte, die in Workshops zur
Entwicklung von Klimaanpassungsmaßnahmen mitwirken möchten.
>>more...
---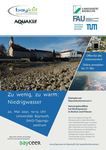 Dialogforum Wasserkontroversen: Podium diskutiert zu Niedrigwasser
Rund ums Wasser bringt der Klimawandel in vielen Bereichen neue Herausforderungen mit sich, zu deren Lösung es kontroverse Positionen gibt. Fachleute aus Forschung und Praxis diskutieren im Dialogforum "Wasserkontroversen" diese drängenden Fragen. Die erste Podiumsdiskussion am 20.5. dreht sich ums Niedrigwasser. Veranstaltet werden die Wasserkontroversen vom Forschungsprojekt AquaKlif im Rahmen des Bayerischen Klimaforschungsnetzwerks.
>>Link...