Studies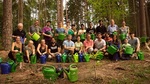 Klimawald Bayreuth: Auf die nächsten 80 Jahre!
Ende April wurden in einer dreitägigen Pflanzaktion auf einem Hektar sturm- und dürregeschädigter Waldfläche von rund 250 freiwilligen Helferinnen und Helfern über 4500 Bäume gepflanzt. Markenzeichen des ersten "Klimawald Bayreuth" sind die Auswahl trockenheitstoleranter Baumarten sowie ihre große Vielfalt, und damit Risikostreuung angesichts der ungewissen Klimazukunft. Initiiert wurde das Projekt von drei Studierenden im Master 'Global Change Ecology', verwirklicht gemeinsam mit der Stadtförsterei, dem Amt für Ernährung, Landwirtschaft und Forsten Bayreuth (AELF), dem Ökologisch-Botanischen Garten und dem BayCEER. Eine Gießaktion Anfang Juli soll die jungen Bäume über den trockenen Sommer retten.
>>more...
News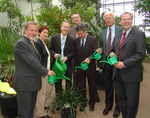 Anniversary: BayCEER is turning 15
The "Bayreuth Center for Ecology and Environmental Research - BayCEER" was first officially formed at an opening ceremony in the Ecological-Botanical Garden (Uni Bayreuth) in June 2004. The BayCEER evolved out of the former "Bayreuth Institute for Terrestrial Ecosystem Research - BITÖK" which had been funded by the Federal Government for the previous 15 years. It acts as unifying center for all working groups in the focus area Ecology and Environmental Sciences at the University of Bayreuth. As integrated and interdisciplinary system of environmental research BayCEER has proven itself many times since its first conceptualization in the early 2000s. The 15th anniversary will be celebrated on 10 October at the annual BayCEER Workshop. A retrospection on the initial opening ceremony can be found in the original press report by "Nordbayerischer Kurier":
>>Link...
---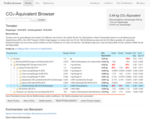 Online und interaktiv den CO₂-Quellen auf der Spur
Ein Kilo Tomaten verursacht eine CO₂-Belastung von 0,44kg - doch welchen Anteil haben daran LKW-Transport, Gewächshausheizung oder Dünger? Mit dem neuen interaktiven CO₂-Browser können Interessierte in die Welt der Stoffstrombilanzen eintauchen, Einzelquellen der Treibhausgasbelastung analysieren, CO₂-Bilanzen modifizieren und neu zusammenstellen. Der Browser basiert auf der Stoffstromdatenbank ProBas des Umweltbundesamtes. Die benutzerrfreundliche Oberfläche wurde von Dr. Stefan Holzheu für den Klimatag des Markgräfin-Wilhelmine-Gymnasiums in Bayreuth entwickelt.
>>Link...
Events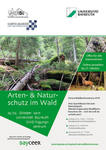 Forum Waldkontroversen 2019: Natur- und Artenschutz im Wald
"Vom Spechtbaum bis zum Nationalpark: Wieviel ungenutzte Waldfläche brauchen wir - und wie soll sie verteilt sein?" Unter dieser Leitfrage wird am 25./26. Oktober 2019 mit dem Schutz und Erhalt der Biodiversität eine der heftigsten Kontroversen rund um den Wald thematisiert. Die Exkursion am Samstag bietet Einblicke zu Wirtschaftlichkeit und Artenvielfalt im Privatwald. Details zum Programm, den eingeladenen Gästen sowie Online-Anmeldung ab sofort unter:
>>Link...
Ecological-Botanical Garden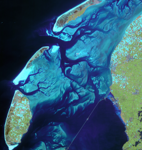 SPACED: Using Earth Observations to Protect Natural Landscapes
The informative photo exhibition "SPACED" is an initiative of the ECOPOTENTIAL project, which receives funding from the Horizon 2020 programme of the European Union. Here at University of Bayreuth, Prof. Dr. Carl Beierkuhnlein from the Department of Biogeography at BayCEER essentially contributed to the coordination of ECOPOTENTIAL. Everybody interested is kindly invited to the Exhibition Opening on Sunday, June 30th, 14:00!
>>more...
GCE Blog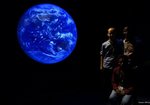 In retrospect: IPBES 7 in Paris / Klimawald Bayreuth
The start into the summer semester at the end of April was eventful for the students in the Master Global Change Ecology. Their impressions of the 7th IPBES Plenary Session by the "Intergovernmental Science-Policy Platform on Biodiversity and Ecosystem Services" in Paris are filing several blog posts. Furthermore, there is a retrospect at the "Klimald Bayreuth" event. Worth reading!
>>Link...
Research

Stadtklima für alle: Bayreuths Wetterdaten im Web
Wie kalt war letzte Nacht in Bayreuth - in der Kämmereigasse und am Röhrensee? Wie schnell pfeift der Wind auf dem Karstadtdach und im Hofgarten? Im Projekt "MISKOR - Minderung Städtischer Klima- und Ozon Risiken" werden aktuelle Wetterdaten an 12 Stationen im Stadtgebiet Bayreuth gemessen und in Echtzeit im Web zur Verfügung gestellt. Die kleinräumigen Unterschiede des städtischen Mikroklimas werden erforscht, um in der Praxis anwendbare Planungshilfen zu entwickeln. Im Sommer werden fahrradgetragene Kurzzeitmessungen die Langzeitmessungen ergänzen. Das Ziel ist es, Strategien zu entwickeln, wie die negativen Folgen des Klimawandels inklusive dem Wärmeinsel-Effekt und der Ozonbelastung für die Bevölkerung abgemildert werden können.
>>Link...