Spatial patterns of Pinus cembra in Carpathian Mountains protected areas
Mirela Beloiu1, Carl Beierkuhnlein1
1 Biogeography

O 3.2
in
Tracking Spatial Patterns: From Mosquitos to Biomes
11.10.2018, 14:15-14:30, H36, NW III
Introduction
While the influence of climate change on Swiss stone pines in the Alps and the Carpathians is well studied, the spatial patterns of this species are still poorly understood. Population dynamics and human pressure vary significantly with protection status. Therefore, we investigated the spatial patterns of Swiss stone pine in areas with different protection status in the Carpathian Mountains, where isolated populations occur, in order to understand how tree size classes are spatially distributed and how they interact.
Material and Methods
We analyzed the spatial distribution and the relationship between adult, intermediate and sapling trees using the point pattern analyses pair correlation g(r), cross-k Kij(r) and mark correlation kmm(r) functions.
Results
Our results show 1) a clumped pattern of all individuals in both protected areas, 2) aggregation pattern among all tree classes in the Natura 2000 site caused by past management and in the National Park a clustered pattern only between intermediate - sapling class, a result consistent with vegetation regeneration in recent decades at the treeline, 3) mark correlation function showed several independent patterns in the Natura 2000 site and positive autocorrelation in the National Park suggesting mutual stimulation among trees of similar size.
Conclusions
The study highlights the importance of long-term protection status in the spatial distribution of Swiss stone pine at the treeline.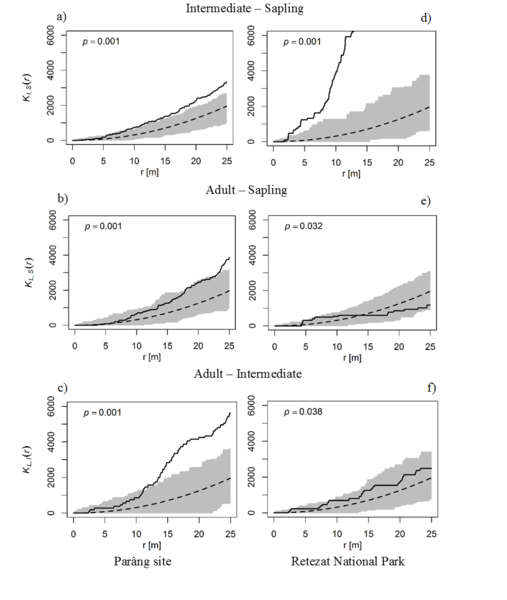 Keywords: Spatial structure, forest management, mark correlation, Southern Carpathians, National Park, Natura 2000 network
Export as iCal: