Rankings & Awards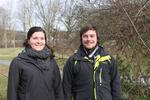 Escape Room für mehr Nachhaltigkeit
Thomas Schmitt und Rebekka Riebl aus der Arbeitsgruppe Ökologische Dienstleistungen im BayCEER sind eines der 15 Gewinnerteams im bundesweiten Hochschulwettbewerb "Zeigt eure Forschung!" zum Thema Bioökonomie. Sie wurden für ihr Konzept eines "Escape Rooms" ausgezeichnet, der Jugendliche und Erwachsene für die Notwendigkeit einer stärkeren Verknüpfung von Ökonomie und Ökologie sensibilisieren soll. Mit dem Preisgeld von 10.000 Euro werden sie ihr Konzept in den nächsten Monaten in die Praxis umsetzen.
>>Link...
Research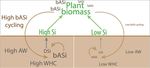 Ernährung sichern: Silizium erhöht Wasservorräte für Pflanzen
Infolge des Klimawandels ist künftig mit häufigeren und längeren Dürreperioden verbunden mit Erneausfällen zu rechnen. Ein Team um Dr. Jörg Schaller, der vor kurzem vom BayCEER ans Leibniz-Zentrum für Agrarlandschaftsforschung wechselte, und Prof. Dr. Andrea Carminati, Bodenpysik/BayCEER, hat ein potentielles Gegenmittel entdeckt: Amorphes Silikat ist in der Lage, die für Pflanzen verfügbaren Wasservorräte in den Böden erheblich zu steigern. Damit bietet sich eine Chance, die weltweite Ernährungssicherheit trotz des Klimawandels zu stärken. In der Zeitschrift "Scientific Reports" plädieren die Forscher für eine nachhaltige Bewirtschaftung von Böden, die einen höheren Gehalt von amorphem Silikat gewährleistet.
>>Link...
---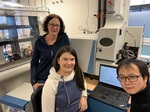 New arsenic compounds: Risk or opportunity for rice cultivation?
University of Bayreuth researchers, together with scientists from Italy and China, have for the first time systematically investigated under which conditions, and to what extent, sulphur-containing arsenic compounds are formed in rice-growing soils. To date, these thioarsenates have not been taken into account in assessments of the health effects of rice consumption. In the journal "Nature Geoscience" the The team, headed by the Bayreuth environmental geochemist Prof. Dr. Britta Planer-Friedrich, presents the results and identifies the urgent need for research with a view to protecting consumers from health risks.
>>Link...
---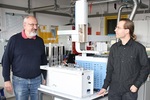 Underestimated: Fungi as food source for plants
The number of plant species that extract organic nutrients from fungi could be much higher than previously assumed. This was discovered by researchers from the BayCEER Laboratory of Isotope Biogeochemistry and the University of Copenhagen through isotope investigations on Paris quadrifolia, otherwise known as Herb Paris or True Lover's Knot. This forest-floor plant, which is widespread in Europe, is regarded in botany as a prototype for plants that have a specific exchange relationship with fungi, which in fact accounts for around 40 percent of all plant species. In "The New Phytologist" journal, the scientists report on their surprising results.
>>Link...
Job announcements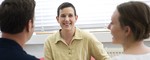 New horizons 2020? Open postions in BayCEER
You have a PhD and experience in ecosystem analysis & simulation, didactics of biology or ecotoxicology? You are looking for a PhD opportunity, and research in atmospheric turbulence and particle transport, rockwall weathering or rhizophere microbial ecology sounds interesting to you? Have a look at the list of open positions in BayCEER and get more information on our campus as workplace.
>>Link...
News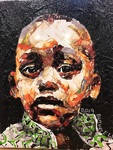 Wissenschaft trifft Kunst: "Von Plastik zu Mikroplastik"
Im Iwalewahaus kommen in den nächsten Wochen spannende Perspektiven auf das Thema "Plastik" zusammen: zum einen gestaltet Mbongeni Buthelezi aus Johannesburg/Südafrika als Artist in Residence Gemälde aus Plastikabfällen, zum anderen erstellen Promovierende aus dem Sonderforschungsbereich Mikroplastik eine "Science Ralley" zum Mitmachen, die am 27.2. eröffent wird. Höhepukt und Abschluss ist das Bayreuther Stadtgespräch am 4. März, das von Prof. Dr. Christian Laforsch, Lehrstuhl Tierökologie, BayCEER/Umni Bayreuth, und dem Künstler Mbongeni Buthelezi gemeinsam gestaltet wird.
>>Link...
Books & literature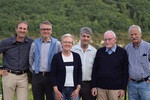 New edition: Plant Ecology
In December 2019 a completely updated and revised second edition of "Plant Ecology" was published (by Springer). As reference for students, researchers and practitioners, the book comprises molecular ecophysiology, physiological and biophysical plant ecology, ecosystem ecology, community ecology and biological diversity as well as global ecology. All of the six authors have worked or still contribute to research in the focus area Ecology and the Environmental Sciences at the University of Bayreuth.
>>more...
News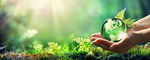 UBT Sustainability Award 2020 for final thesis projects
The University of Bayreuth's Governing Board and GreenCampus, in cooperation with the Universitätsverein Bayreuth, are once again awarding a Sustainability Award for final thesis projects. Honoured will be outstanding and forward-looking bachelor's or master's theses or equivalent academic achievements on research topics oriented toward the United Nations' goals of sustainable development and dealing theoretically or practically with securing sustainable ecological development. The closing date for applications is 15 September 2020.


>>Link...
Rankings & Awards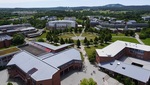 Outstanding placings for the University of Bayreuth in global sustainability ranking
The University of Bayreuth is one of the world's leading universities when it comes to sustainability. In the "UI GreenMetric World University Ranking 2019" it came 26th in the global comparison, and third in Germany. A total of 780 universities from 85 countries took part in this ranking based exclusively on sustainability criteria and published annually by Universitas Indonesia in Jakarta since 2010. The good result of the UBT was significantly supported by the GreenCampus platform. An integrated, socially balanced and ecologically ambitious sustainability strategy for the University of Bayreuth is currently being developed for 2020, involving all stakeholders.
>>Link...
GCE Blog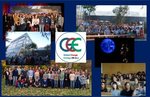 Master Global Change Ecology - 2019 in Review
In their blog, GCE students share their experiences with others. Insights in intergovernmental negotian processes on the protection of biodiversity and climate make up a big part, as GCE students have the unique opportunity to participate and "observe" international conferences on these topics, like the Seventh plenary session of the Intergovernmental Platform on Biodiversity and Ecosystem Services 2019 in Paris. Besides, you can learn about GCE activities, do-it-yourself climate action and enjoy wild facts and opinions.
>>Link...