News

2021 Isotope Award goes to graduate of the University of Bayreuth
Dr. Philipp Giesemann has been awarded the Isotope Prize of the Dr. Karleugen Habfast Foundation for his research work in the field of ecology and environmental research in Bayreuth. The foundation awards this prize every two years for outstanding research work in the field of "Application of Stable Isotopes". The awarding of the prize, which is endowed with € 3,000, took place during the virtual annual meeting of the German Association of Stable Isotope Research 2021.
>>more...
---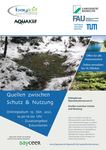 2. Dialogforum Wasserkontroversen: Quellen zwischen Schutz und Nutzung
Rund ums Wasser bringt der Klimawandel in vielen Bereichen neue Herausforderungen mit sich, zu deren Lösung es kontroverse Positionen gibt. Fachleute aus Forschung und Praxis diskutieren im Dialogforum "Wasserkontroversen" diese drängenden Fragen. Die zweite Veranstaltung widmet sich mit einer Online-Podiumsdiskussion am 19.10. sowie zwei ergänzenden Exkursionen (20./25.10.) dem Thema "Quellen zwischen Schutz und Nutzung". Alle Interessierten sind herzlich zur Teilnahme eingeladen! Infos und Anmeldung unter:
>>Link...
---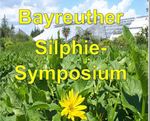 Bayreuther Silphie-Symposium
Die Becherpflanze (Silphium perfoliatum) ist als Alternative zum Mais eine vielversprechende Bioenergiepflanze. Ein Online-Symposium am Donnerstag, 28. Oktober, 9-16 Uhr thematisiert ihre Auswirkungen auf Natur und Landschaft, Boden-Pflanze-Atmosphäre-Interaktionen und Fragen der Verwertung. Das Symposium bringt Silphie-Forschende in Deutschland zusammen und bezieht die interessierte Öffentlichkeit mit ein.Organisiert wird es von Prof. Johanna Pausch (Agrarökologie) und Dr. Marianne Lauerer (Ökologisch-Botanischer Garten) zusammen mit dem Sachgebiet Wasserwirtschaft der Regierung von Oberfranken. Programm und Anmeldung:
>>Link...
Rankings & Awards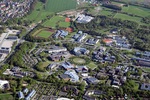 University of Bayreuth enjoys good reputation worldwide in environmental sciences
Sustainability and environmental issues are an important topic at the University of Bayreuth. Numerous study programmes and focus topics in this forward-looking field are shaping both teaching and research in Bayreuth. Recent international rankings prove that the University is renowned worldwide in this regard. In fact, both the QS World University Subject Ranking and the Shanghai Ranking give it top marks in the environmental sciences.
>>Link...
Events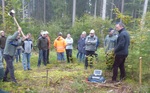 Forum Zukunftswald: Baumarten für den Wald von morgen
Um zukunftsträchtige Baumarten für das Klima in 20, 40, 80 Jahren drehte sich Mitte Oktober die zweite Veranstaltung des Forum Zukunftswald am Gutshof in Mengersdorf. Den Forschungsstand dazu erläuterte am Freitagabend Dr. Tobias Mette von der Bayerischen Landesanstalt für Wald und Forstwirtschaft (LWF) aus Freising. Fortliche Beratungswerkzeuge und hilfreiche Ansätze zum Waldbau erklärte am Samstagvormittag an verschiedenen Beispielstandorten im Forstrevier Mengersdorf Waldbautrainer Ottmar Ruppert, ebenfalls von der LWF.
>>more...
Research

Climate history study: Cooling periods cause evolutionary surges
Temperatures on Earth have had a significant influence on the course of evolution. A particularly high number of new species of marine animals emerged after geologically short cooling periods that had already been preceded by a much longer cooling period. This is the conclusion reached by researchers from the BayCEER / Universities of Bayreuth and Erlangen-Nuremberg in a new study that has now been published in the journal PNAS. By combining empirical data and computer simulations, they have found that the influence of rapid climate change on biodiversity is significantly influenced by longer-lasting climate trends in previous periods of the Earth's history.
>>Link...
---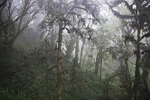 Significant carbon storage in African mountain forests
The tropical mountain forests of Africa store more carbon per hectare in their above-ground biomass than all other tropical forests on earth. With this great storage capacity, which was previously estimated by the Intergovernmental Panel on Climate Change (IPCC) to be considerably lower, they have made a major contribution to climate protection. This is the conclusion of a study published in Nature by an international network of researchers who are urging for the preservation of these carbon-rich ecosystems. Dr. Andreas Hemp from the University of Bayreuth and his team investigated carbon stocks in the mountain forests of Kilimanjaro.
>>Link...