News

Klima-Report Bayern 2021
Die zweite Auflage des Klima-Report Bayerns (Stand Dez. 2020) wurde vom Bayerischen Staatsministerium für Umwelt und Verbraucherschutz veröffentlicht und befasst sich in fünf Kapiteln mit den Auswirkungen des Klimawandels auf Bayern. Der Bericht prognostiziert eine maximale Zunahme der mittleren Temperatur um 4,8°C bis zum Jahr 2100 im Vergleich zum Zeitraum von 1971-2000.
>>more...
---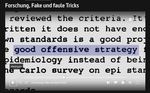 Wissenswert: Erkenntnisse der Agnotologie
Nicht selten wird Wissenschaft instrumentalisiert - anhand mehrerer großer Umwelt- und Gesundheitsskandale zeigt die ARTE-Reportage "Forschung, Fake und Faule Tricks" die Strategien dahinter auf. Interdisziplinär arbeitende Agnotologen analysieren die bewusste Produktion von Nichtwissen. Sie entlarven Methoden der Wissensbehinderung sowie unbewusste Denk- und Verhaltensmuster der Menschen, Unwissenheit zuweilen dem Erkenntnisgewinn vorzuziehen. Die Dokumentation entstand 2020 in Frankreich und ist bis 23. April in der Mediathek verfügbar.
>>Link...
---

BayEOS in CO2-Ampel
Das Fablab Bayreuth hat zusammen mit Stephan Messlinger (Experimentalphysik) und Stefan Holzheu (BayCEER) eine CO2-Ampel entwickelt. In die Ampel sind auch viele Entwicklungen aus dem Baukasten des Sensordatenerfassungssystem des BayCEER (BayEOS) eingeflossen.
>>more...
---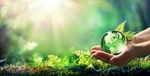 University of Bayreuth again awarded as Fairtrade-University
The University of Bayreuth (UBT) has been awarded as "Fairtrade University" again. The UBT was the first Bavarian University to receive the Fairtrade seal back in 2016 and will be allowed to carry this title for another two years in the future. The seal emphasises the university efforts to promote fair trade on campus and is a component of the sustainability efforts.
>>more...
Research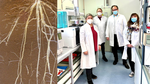 Effects of microplastics on agricultural soils
The effects of microplastics on soil quality and the growth of agricultural crops are the focus of a new interdisciplinary research project at the University of Bayreuth. The project is funded by the German Research Foundation (DFG) and is part of the "Microplastics" Collaborative Research Centre (CRC 1537) established at the University of Bayreuth in 2019.
>>Link...
---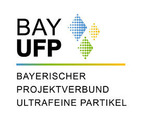 Bavarian research network "Measurement, characterisation and evaluation of ultrafine particles" (BayUFP)
The research network BayUFP is investigating health risks associated with ultrafine particles in the environment. These particles are smaller than 100 nanometers in diameter and the smallest components in particulate matter. Our BayCEER member Anke Nölscher (Junior Professorship Atmospheric Chemistry) leads the project "Method optimisation for chemical analysis of ultrafine particles" in cooperation with the Helmholtz Zentrum München within this network. Prof. Nölscher's project evaluates, combines, and optimises different methods to characterise ultrafine particles from the environment. In order to be able to draw conclusions on the environmental impact as well as on human health the quality and the comparability from different site samples must be guaranteed.
>>more...
---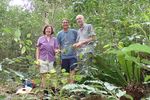 Botanists from Bayreuth explore the unique flora of New Caledonia
BayCEER members Sigrid Liede-Schumann and Ulrich Meve (Plant Systematics) have discovered seven new plant species in the Apocynaceae (commonly known as the dogbane family) in New Caledonia. On the trail of the British explorer James Cook, they examined the flora of the archipelago in the Southwest Pacific in spring 2019, and have now published the results of their long-term studies in the 27th volume of "Flore de la Nouvelle-Calédonie".
>>Link...