Events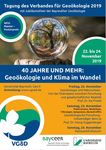 40 Jahre und mehr: Geoökologie und Klima im Wandel
Die Jahrestagung des Verbands für Geoökologie in Deutschland findet vom 22.-24. November in Bayreuth statt. Nachgefeiert wird hier auch das 40jährige Jubiläum des Studiengangs, der an dieser Universität entwickelt wurde. Mit zwei abendlichen Festvorträgen bekannter Bayreuth-Alumni, Führungen und Workshops sowie dem Minisymposium "Stadt, Land, Klimawandel" und dem Ehemaligentreffen am Samstagabend sind spannende Tage garantiert - nicht nur für Geoökologen! Programm und Anmeldung unter:
>>Link...
Research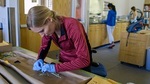 Rice production in times of global warming
Researchers at the Universities of Stanford, Tübingen, and Bayreuth predict that harvests of rice, the world's most important staple food, will decline significantly more than previously expected, and that its arsenic content will rise sharply under future climatic conditions. They present the results of their research in the journal "Nature Communication". According to Prof. Dr. Britta Planer-Friedrich, co-author and head of the Environmental Geochemistry, BayCEER / University of Bayreuth, understanding the absorption routes and conversions of arsenic in rice plants and being able to advise on breeding and agriculture is an important goal of research of the group.
>>Link...
---

Microplastics in the hyporheic zone of rivers
For the first time, researchers from the working groups Hydrology and Animal Ecology, BayCEER / University of Bayreuth, examined a stream bed - the so-called hyporheic zone - specifically for microplastic. In drill cores from the Roter Main River they found only a few larger particles, but all the more of smaller pore scale particles. In their study in Scientific Reports, they discuss possible effects on riverine food webs and drinking water supply. The research is part of the SCollaborative Recsearch Center Microplastics.
>>Link...
---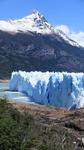 Climate change in protected areas endangers biodiversity
Researchers at the Chair of Biogeography, BayCEER / University of Bayreuth, have calculated for the first time how climate change is likely to affect the earth's conservation areas by 2070. In Nature Communications, they present their study with which they seek to give new impetus to environmental policy and the management of protected areas.
>>Link...
News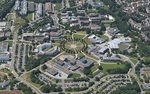 University of Bayreuth among the world's top young universities
The University of Bayreuth is in the top group of the "Nature Index 2019 Young Universities". This global ranking lists universities and research institutions younger than 50 years of age according to their share of publications in cutting-edge scientific research. In the ranking of the world's 175 best young universities, the University of Bayreuth was placed 21st. This puts it in second spot among young universities in Germany. The breakdown by subject group shows that the University of Bayreuth is one of the world's leading young institutions in "Earth & environmental sciences". Here it achieved seventh place out of a total of 25 listed institutions.
>>Link...
Rankings & Awards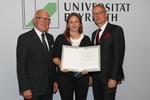 Universitätsverein Science Award to Professor Dr. Johanna Pausch
The Universitätsverein Science Award for outstanding academic achievements in the promotion of early-career scholars at the University of Bayreuth goes to Professor Dr. Johanna Pausch. Since her appointment to the Junior Professorship for Agroecology (Tenure Track) in May 2017, Johanna Pausch has succeeded in establishing a considerable working group with a focus on rhizosphere research, raising funds for a number of research projects, and launching new research initiatives at the BayCEER.
>>Link...
---

Deutscher Umweltpreis 2019 geht an Prof. Dr. Ingrid Kögel-Knabner
Die Bodenwissenschaftlerin Prof. Dr. Ingrid Kögel-Knabner von der TU München und der Unternehmer Reinhard Schneide aus Mainz werden am 27. Oktober 2019 je zur Hälfte mit dem mit 500.000 Euro dotierten Deutschen Umweltpreis der Deutschen Bundesstiftung Umwelt ausgezeichnet. Ingrid Kögel-Knabner forscht zur Rolle von Böden im Klimawandel. Sie gilt als eine der renommiertesten und einflussreichsten Bodenwissenschaftlerinnen der Welt. Als eine der ersten studierte sie an der Universität Bayreuth Geoökoloigie, sie promovierte und habilitierte danach in der Bodenkunde bei Prof. Dr. Wolfgang Zech.
>>Link...
---

Naturpark Fichtelgebirge e.V. fördert Masterarbeit zur Buchenverjüngung
Masterstudentin Judith Eisenbacher hat für ihre Abschlussarbeit zum Thema "Spätfrostlimitierung der Rot-Buche im Fichtelgebirge" eine Förderung durch den Naturpark Fichtelgebirge e.V. erhalten. Die Forschung ist eine Zusammenarbeit der Mikrometeorologie und der Störungsökologie, geleitet von Prof. Dr. Anke Jentsch.
>>more...