2021 Isotope Award goes to graduate of the University of Bayreuth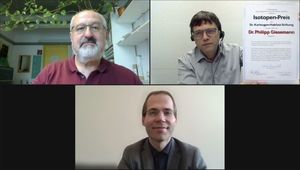 2021-10-20
Dr. Philipp Giesemann has been awarded the Isotope Prize of the Dr. Karleugen Habfast Foundation for his research work in the field of ecology and environmental research in Bayreuth. The foundation awards this prize every two years for outstanding research work in the field of "Application of Stable Isotopes". The awarding of the prize, which is endowed with € 3,000, took place during the virtual annual meeting of the German Association of Stable Isotope Research 2021.
Dr. Philipp Giesemann has used the natural enrichment of fungi with the heavy stable isotopes of carbon, hydrogen and nitrogen to elucidate organic nutrient fluxes between fungi and plants in the soil. His research results show diverse forms of below-ground networking, ranging from an equal partnership between fungi and plants to plant parasitism at the expense of fungal partners. In doing so, he has significantly expanded our understanding of the supply pathways of plants with essential nutrients. Furthermore, he has brought into focus the hitherto little-noticed phenomenon that plants obtain vital nutrients in part from other organisms, especially from fungi.
Dr. Philipp Giesemann studied in the Master's programme Biodiversity and Ecology at the University of Bayreuth from 2014 to 2016. His dissertation, completed in February 2021, was supervised by Prof. Gebauer and funded by a doctoral scholarship from the Elitenetzwerk Bayern.
A detailed press release can be found here.
https://uni-bayreuth.de/en/press-releases/isotope-award-2021