Species richness patterns of vascular plants within steppe islands: a case study of kurgans in southern Ukraine
Iwona Dembicz1, Ivan I. Moysiyenko2, Anastasia Shaposhnikova2, Denys Vynokurov3, Łukasz Kozub4, Barbara Sudnik-Wójcikowska4, Jürgen Dengler1
1 Plant Ecology, Bayreuth Center of Ecology and Environmental Research (BayCEER), University of Bayreuth
2 Kherson State University
3 M. G. Kholodny Institute of Botany of the National Academy of Sciences of Ukraine
4 Department of Plant Ecology and Environmental Conservation, University of Warsaw

O 2.2
in
Cross-scale relations in ecology and environmental research
13.10.2016, 14:45-15:00, H36, NW III
Introduction
The fragmentation and isolation of preserved habitat patches within intensive agricultural landscape threaten species survival in steppes. In Ukraine, <5% of the original steppe area has survived, mostly in nature reserves, loess ravines and kurgans (burial mounds). The latter are small, but relatively numerous objects.
The aim of our study was to investigate the influence of landscape and local habitat factors on plant species richness patterns within small (kurgans) and large steppe patches in southern Ukraine. Additionally we wanted to investigate whether those patterns are different for specialist and generalist plant species and species possessing different functional traits.
Material and Methods
Full floristic inventories were performed for 106 kurgans within grass steppe zone of southern Ukraine. Additionally plot-scale data was collected from kurgans (40 plots) and large steppe enclaves (22 plots). Local habitat factors were measured in the field and landscape factors were obtained through GIS systems. Species characteristics were derived from local published floras and online trait databases.
Results
The results obtained up to date revealed that the density of habitat specialists was higher in larger steppe enclaves than on kurgans at both spatial scales. Moreover on kurgans the most important predictors of specialist density were isolation (negative) and kurgan area (positive). The density of generalists was positively affected by the heat load index.
Conclusions
Kurgans can provide refuges for steppe plant species. However, our results suggest that over a longer time period, proximity to larger steppe refuges is important to maintain species diversity within these small patches. To deepen our knowledge about the community processes acting within steppe habitat patches in further analysis we would focus on the species-area relationships as well as responses of species possessing particular functional traits to habitat loss and fragmentation.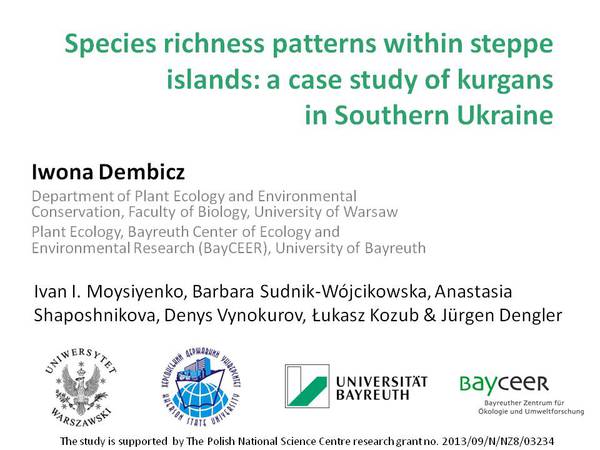 First slide O 2.2
Keywords: extinction, fragmentation, habitat loss, habitat patch, landscape connectivity, habitat specialist
Export as iCal: