Spatial mismatch between ecological deficits and agri-environmental subsidies across Germany
Andrea Früh-Müller1, Lutz Breuer2, Thomas Koellner3, Volkmar Wolters1
1 Department of Animal Ecology, Research Centre for BioSystems, Land Use and Nutrition (IFZ), Justus Liebig University Giessen
2 Institute for Landscape Ecology and Resources Management, Research Centre for BioSystems, Land Use and Nutrition (IFZ), Justus Liebig University Giessen
3 Professorship of Ecological Services, University of Bayreuth

P 4.3
in
Land-use effects on ecosystems
The intensification of agriculture over the past century has caused severe declines in farmland biodiversity, which affects the delivery of ecosystem services. In response to this trend, agri-environmental schemes (AES) have been introduced in Europe "to apply agricultural practices that contribute to climate change mitigation and adaptation and that are compatible with the protection and improvement of the environment, the landscape and its features, natural resources, and the soil and genetic diversity" (Regulation (EU) No 1306/2013). However, the effectiveness of AES is debated; common criticisms include that they are not sufficiently rigorous, that their implementation is not always spatially targeted and that they do not consider synergies and trade-offs among their objectives.
We extracted data on payments of the European Union agricultural funds in Germany that were made in 2014 to detect spatial patterns in the implementation of AES and compare them to documented patterns of environmental issues (nitrous oxide emissions, threats to soil biodiversity, ammonia deposition, soil erosion risk of arable soils). The objective of this study is to assess whether AES were targeted towards locations with known environmental deficits.
We addressed the following research questions:
Where are areas of high and low implementation rates of AES across Germany?
Are measures implemented in locations with high environmental deficits?
Our results show a pronounced spatial mismatch in the implementation of AES and multiple environmental deficits. AES were mostly taken up by land managers in regions with favourable environmental state. By contrast, in regions facing environmental problems due to intensive agriculture, only few measures were implemented. These results suggest that mechanisms to optimize the spatial allocation of measures are needed to meet environmental needs and enhance overall effectiveness and efficiency of AES.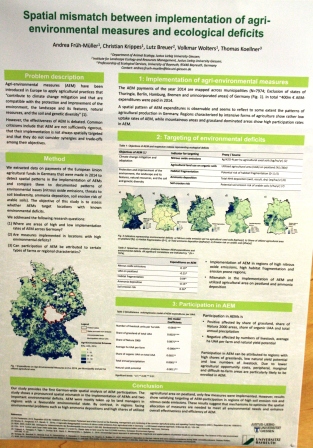 Photo of P 4.3
Keywords: payments, spatial analysis, landscape, agriculture, environmental deficits