TP1 Effects of fine sediment and temperature stress on aquatic communities
AQUAKLIF_TP1
From 04/2018 to 07/2023
Principal Investigator
:
Jürgen Geist
Staff
:
Romy Wild
What is it about?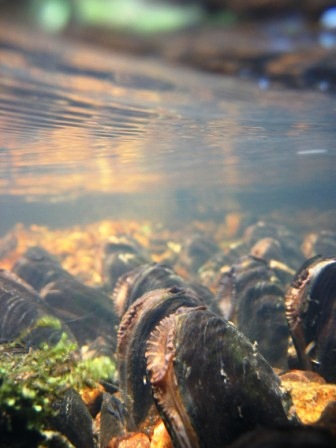 Many stream-dwelling species do not only depend on clean water, but also on a functional stream bed. Fine soil particles that are washed out from surrounding fields and settle on the stream bed can result in colmation and oxygen-depletion. By additional "climate-related stress", e.g. higher temperatures and extended dry periods with little discharge, but also by torrential rains that cause additional erosion, these effects can be exacerbated.

In this subproject, the scientists investigate at flow channels and real streams the effects of the expected double burden on aquatic animals. They plan to deduce which measures in the restoration of brooks are most promising for future climate conditions.

...and as scientists would put it:
The sedimentary system in the riverbed is of central importance for a variety of aquatic species, as a temporary (e.g., insect, fish egg development) or permanent habitat (mussels, many macrozoobenthos organsisms). In this subproject, the effect of increased fine sediment input in combination with climate-related stress (temperature, discharge dynamics) on the temporal-spatial distribution patterns of aquatic organisms and the system resilience is examined taking into account different scales (standardized laboratory experiments and field experiments).

By means of flow channel tests with defined addition of fine sediments of different properties (amount, grain size composition, organic content) and temperature/discharge control as well as validation in field experiments (physicochemical and biological sampling of sites of different colmation and temperature zoning in streams) mechanistic connections between the physicochemical effects of stressors and biological endpoints will be established. Particular attention is paid to the consideration of direct autecological (egg development, mortality in target species) and indirect synecological impact chains (population dynamics, predation effects). From the understanding of the interaction of both factors and their impact on aquatic biodiversity, the inclusion of restoration effects (e.g., substrate loosening, shading, etc.) can be used to derive concrete conclusions about the effectiveness of different mitigation and restoration measures as adaptation strategies to climate change.