Introduction
Lichenicolous fungi are fungi dwelling on or in lichens (Kirk et al. 2001). Today about 1000 species of obligate lichenicolous fungi are known. Most of them are visible to the naked eye on their host lichens (e.g. Phacopsis). However, a much wider range of fungi may be associated with lichens (Petrini et al. 1990, Girlanda et al. 1997, Caretta et al. 1998). They are mainly supposed to spread as sterile mycelia inside the lichens and are therefore not visible – mostly even not with optical devices. Therefore, we call them cryptic lichenicolous fungi.
The Letharietum vulpinae
The character species of the lichen community Letharietum vulpinae is Letharia vulpina, the wolf lichen. It grows on the bark of conifers (Central Europe, North Africa, North America) or on dead wood (Scandinavia, North America). Species of other fruticose (Bryoria, Evernia, Usnea) and foliose lichenised genera (Hypogymnia, Imshaugia, Melanelia, Parmeliopsis, Pseudevernia) accompany Letharia.
The sampling sites
Cryptic lichenicolous fungi were isolated from four sites in Europe and two in North America. Three of the former ones are located in the Alps at about 1900 m altitude: in the Nationalpark Berchtesgaden (Germany), at Turracher Höhe in Kärnten (Austria) and in Valle di Susa (Italy). The fourth European site is located in Sweden, near Sörvattnet. In California (USA), fungi were isolated in the James reserve (San Jacinto Mountains) and near the Sky Oaks field station.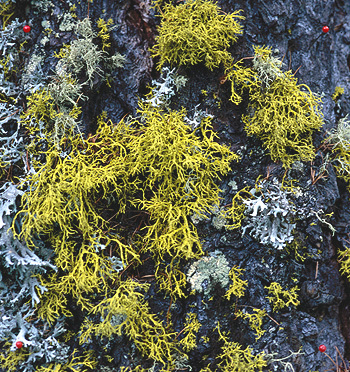 Letharietum vulpinae on bark of Larix decidua
The sampling method (Peršoh 2002b)
The fungi were isolated in the field to reduce the number of possible contamination sources. The uppermost one mm of side branches of fruticose lichens - respectively a corresponding piece of the margin of foliose specimens - was transferred directly from the lichen (which was left attached to the tree) to the culture media, using sterile tweezers. Afterwards, the tweezers were used to drag the lichen fragment through the agar and tear it in smaller parts, which were spread over the whole plate. In the laboratory, the plates were examined regularly (daily within the first two weeks) and growing mycelia were transferred immediately to fresh media when detected. This way, from one lichen fragment up to 80 fungal strains could be isolated to pure culture.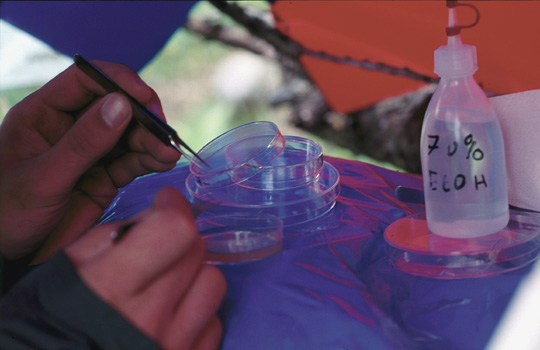 Isolation of cryptic lichenicolous fungi under semi sterile conditions in the field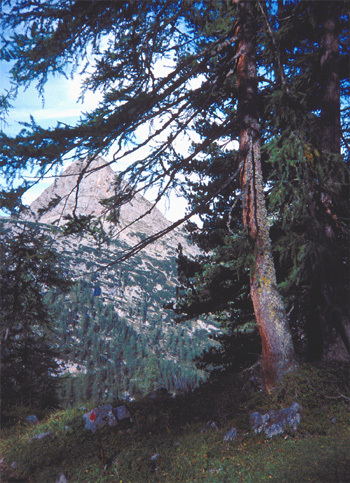 Sampling site in the Nationalpark Berchtesgaden