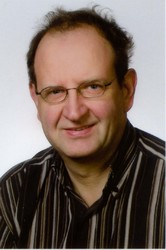 Prof. Dr.

Michael Hauhs
Professor
Ecological Modelling

Phone: +49(0)921/55-5650
Fax: +49(0)921/55-5799
Room: Dr.-HF-Str., C 6
e-Mail: michael.hauhs(at)uni-bayreuth.de


Department of Ecological Modelling, University of Bayreuth
Dr.-Hans-Frisch-Straße 1-3
D 95448 Bayreuth
Germany



SPRECHSTUNDE:

Außerhalb der Vorlesungszeit nur nach Vereinbarung per E-Mail.

Während der Vorlesungszeit immer am Mittwoch 10.15-11.00 Uhr im Raum 1.09, GEO II Gebäude.



---
Prof. Michael Hauhs leitet seit 1992 den Lehrstuhl für Ökologische Modellbildung. Er hat an der Universität Göttingen Forstwirtschaft studiert, in Bodenkunde promoviert und danach als Postdoc am Norwegischen Institut für Wasserforschung (NIVA) in Oslo gearbeitet.
Die Ökologische Modellbildung in Bayreuth war die erste Professur im deutschsprachigen Raum unter dieser Bezeichnung. Das junge Thema der Modellierung von Öko- und Umweltsystemen ist inzwischen zum Anlass für weitere Professuren unter dieser oder ähnlichen Bezeichnungen geworden. Es ist aber noch zu früh, von einer neuen "Disziplin" zu sprechen.
Seine Forschungsschwerpunkte sind:
Möglichkeiten und Grenzen der theoretischen Beschreibung von Ökosystemen
angewandte Modelle zu Wissensformen über Ökosystem-Management

Prozessverständnis
praktische Erfahrungen

Modellbildung biologischer Aspekte des Waldwachstums
Modellbildung physikalisch-chemischer Aspekte

Stofftransport und Wasserfluss in bewaldeten Einzugsgebieten
nichtlineare Zeitreihenanalyse

Ökosystemphänomenologie

zelluläre Automate
neuronale Netze
komplexitätstheoretische Methoden


>> Personal homepage
>> Courses taught