Department of Micrometeorology 1997-2014
The Department of Micrometeorology, headed by Prof. Dr. Thomas Foken from 1997 to 2014, has been under the leadership of Prof. Dr. Christoph Thomas since the 1st of October 2014. This web page will be updated with information of new publications and the research results of former projects. The same will be done for software updates. The new works of Prof. Foken are shown on the web page of "MikroMeteorologische Beratung".
Recent information regarding oral presentations, lessons etc. of Prof. Dr. Foken are available on the web page of "MikroMeteorologische Beratung".
Books & literature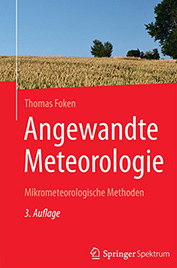 Neuerscheinung
Die dritte Auflage des Buches
Angewandte Meteorologie,
Mikrometeorologische Methoden
Springer 2016, 394 S., 49,99 € (D), ebook 39,99 € (D)
ist Ende Juni 2016 erschienen. Es ist eine Überbearbeitung der 2. Auflage aus dem Jahr 2006 mit Ergänzungen in allen Kapiteln und einer stärkeren Berücksichtigung der atmosphärischen Grenzschicht und lokaler Klimate. Die englische Übersetzung "Micrometeorology" ist Ende 2016 verfügbar.
New on this site
| | |
| --- | --- |
| 2016-09-12 | Publication: Flux calculation of short turbulent events – comparison of three methods |
| 2016-09-02 | Publication: Evaluating the performance of land surface model ORCHIDEE-CAN v1.0 on water an ... |
| 2016-07-01 | Publication: Angewandte Meteorologie, Mikrometeorologische Methoden |
| 2016-06-23 | Publication: Improved data gap-filling schemes for estimation of net ecosystem exchange in ty ... |
| 2016-06-09 | Publication: Performance Evaluation of Four Different Land Surface Models in WRF |
| 2016-06-09 | Publication: OutlierFlag: A Tool for Scientific Data Quality Control by Outlier Data Flagging |
| 2016-03-06 | Publication: Evaluating the performance of the land surface model ORCHIDEE-CAN on water and e ... |
| 2016-01-22 | Publication: Large eddies modulating flux convergence and divergence in a disturbed unstable ... |
| 2015-12-17 | Publication: Recurrence analysis of Eddy covariance fluxes |
| 2015-12-08 | Publication: Evapotranspiration and water balance of high-elevation grassland on the Tibetan ... |