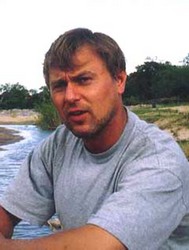 Prof. Dr.

Cyrus Samimi
Professor
Klimatologie

e-Mail: cyrus.samimi(at)uni-bayreuth.de


Universität Bayreuth, Klimatologie
Universitätsstraße 30
95440 Bayreuth
http://www.klimatologie.uni-bayreuth.de/




Ausgewählte Publikationen
2019
Harald Zandler, Isabell Haag, Cyrus Samimi: Evaluation needs and temporal performance differences of gridded precipitation products in peripheral mountain regions Scientific Reports, 9, : 2019
Isabell Haag, Philip D. Jones, Cyrus Samimi: Central Asia's Changing Climate : How Temperature and Precipitation Have Changed across Time, Space, and Altitude Climate, 7, 10, : 2019
Etido Essien, Cyrus Samimi: Detection of Urban Development in Uyo (Nigeria) Using Remote Sensing Land, 8, 6, No. 102: 2019
Isabell Haag, Karim-Aly Kassam, Cyrus Samimi: Ökologische Kalender im Pamir : Anpassung an den Klimawandel auf dem Dach der Welt Geographische Rundschau, 71, 12, 26-31: 2019
Helge Bruelheide, Jürgen Dengler, Borja Jiménez-Alfaro, Oliver Purschke, Stephan M. Hennekens, Milan Chytrý, Valério D. Pillar, Florian Jansen, Jens Kattge, Brody Sandel, Isabelle Aubin, Idoia Biurrun, Richard Field, Sylvia Haider, Ute Jandt, Jonathan Lenoir, Robert K. Peet, Gwendolyn Peyre, Francesco Maria Sabatini, Marco Schmidt, Franziska Schrodt, Marten Winter, Svetlana Aćić, Emiliano Agrillo, Miguel Alvarez, Didem Ambarlı, Pierangela Angelini, Iva Apostolova, Mohammed A. S. Arfin Khan, Elise Arnst, Fabio Attorre, Christopher Baraloto, Michael Beckmann, Christian Berg, Yves Bergeron, Erwin Bergmeier, Anne D. Bjorkman, Viktoria Bondareva, Peter Borchardt, Zoltán Botta-Dukát, Brad Boyle, Amy Breen, Henry Brisse, Chaeho Byun, Marcelo R. Cabido, Laura Casella, Luis Cayuela, Tomáš Černý, Victor Chepinoga, János Csiky, Michael Curran, Renata Ćušterevska, Zora Dajić Stevanović, Els De Bie, Patrice de Ruffray, Michele De Sanctis, Panayotis Dimopoulos, Stefan Dressler, Rasmus Ejrnæs, Mohamed Abd El-Rouf Mousa El-Sheikh, Brian Enquist, Jörg Ewald, Jaime Fagúndez, Manfred Finckh, Xavier Font, Estelle Forey, Georgios Fotiadis, Itziar García-Mijangos, André Luis de Gasper, Valentin Golub, Alvaro G. Gutierrez, Mohamed Z. Hatim, Tianhua He, Pedro Higuchi, Dana Holubová, Norbert Hölzel, Jürgen Homeier, Adrian Indreica, Deniz Işık Gürsoy, Steven Jansen, John Janssen, Birgit Jedrzejek, Martin Jiroušek, Norbert Jürgens, Zygmunt Kącki, Ali Kavgacı, Elizabeth Kearsley, Michael Kessler, Ilona Knollová, Vitaliy Kolomiychuk, Andrey Korolyuk, Maria Kozhevnikova, Łukasz Kozub, Daniel Krstonošić, Hjalmar Kühl, Ingolf Kühn, Anna Kuzemko, Filip Küzmič, Flavia Landucci, Michael T. Lee, Aurora Levesley, Ching-Feng Li, Hongyan Liu, Gabriela Lopez-Gonzalez, Tatiana Lysenko, Armin Macanović, Parastoo Mahdavi, Peter Manning, Corrado Marcenò, Vassiliy Martynenko, Maurizio Mencuccini, Vanessa Minden, Jesper Erenskjold Moeslund, Marco Moretti, Jonas V. Müller, Jérôme Munzinger, Ülo Niinemets, Marcin Nobis, Jalil Noroozi, Arkadiusz Nowak, Viktor Onyshchenko, Gerhard E. Overbeck, Wim A. Ozinga, Anibal Pauchard, Hristo Pedashenko, Josep Peñuelas, Aaron Pérez-Haase, Tomáš Peterka, Petr Petřík, Oliver L. Phillips, Vadim Prokhorov, Valerijus Rašomavičius, Rasmus Revermann, John Rodwell, Eszter Ruprecht, Solvita Rūsiņa, Cyrus Samimi, Joop H.J. Schaminée, Ute Schmiedel, Jozef Šibík, Urban Šilc, Željko Škvorc, Anita Smyth, Tenekwetche Sop, Desislava Sopotlieva, Ben Sparrow, Zvjezdana Stančić, Jens-Christian Svenning, Grzegorz Swacha, Zhiyao Tang, Ioannis Tsiripidis, Pavel Dan Turtureanu, Emin Uğurlu, Domas Uogintas, Milan Valachovič, Kim André Vanselow, Yulia Vashenyak, Kiril Vassilev, Eduardo Vélez-Martin, Roberto Venanzoni, Alexander Christian Vibrans, Cyrille Violle, Risto Virtanen, Henrik von Wehrden, Viktoria Wagner, Donald A. Walker, Desalegn Wana, Evan Weiher, Karsten Wesche, Timothy Whitfeld, Wolfgang Willner, Susan Wiser, Thomas Wohlgemuth, Sergey Yamalov, Georg Zizka, Andrei Zverev: sPlot : A new tool for global vegetation analyses Journal of Vegetation Science, 30, 2, 161-186: 2019
2018
Manuel J. Mayr, Kim André Vanselow, Cyrus Samimi: Fire regimes at the arid fringe : A 16-year remote sensing perspective (2000-2016) on the controls of fire activity in Namibia from spatial predictive models Ecological Indicators, 91, 324-337: 2018
Karim-Aly S. Kassam, Morgan L. Ruelle, Cyrus Samimi, Antonio Trabucco, Jianchu Xu: Anticipating Climatic Variability : The Potential of Ecological Calendars Human Ecology, 46, 2, 249-257: 2018
Katja Reinhardt, Cyrus Samimi: Comparison of different wind data interpolation methods for a region with complex terrain in Central Asia Climate Dynamics, 51, 9/10, 3635-3652: 2018
Kim André Vanselow, Harald Zandler, Cyrus Samimi: Methods of Assessing Vegetation Dynamics and Pasture Potentials in High Mountain Regions in Viktor G. Sychev, Lothar Mueller : "Novel Methods and Results of Landscape Research in Europe, Central Asia and Siberia. Vol. III. Landscape Monitoring and Modelling" , 209-213: 2018
Seyed Omid Nabavi, Leopold Haimberger, Reyhaneh Abbasi, Cyrus Samimi: Prediction of aerosol optical depth in West Asia using deterministic models and machine learning algorithms Aeolian Research, 35, 69-84: 2018
2017
Manuel J. Mayr, Sophia Malß, Elisabeth Ofner, Cyrus Samimi: Disturbance feedbacks on the height of woody vegetation in a savannah : a multi-plot assessment using an unmanned aerial vehicle (UAV) International Journal of Remote Sensing, 1-25: 2017
Fred Krüger, Cyrus Samimi: Environmental management and the reshaping and respacing of livelihoods in sub-Saharan Africa : a short commentary on recent trends and conceptual ideas African Geographical Review, 1-7: 2017
Cyrus Samimi: Klimatologischer Überblick in Ludwig Zöller, Carl Beierkuhnlein, Cyrus Samimi, Dominik Faust : "Die Physische Geographie Deutschlands" , 167-179: 2017
Seyed Omid Nabavi, Leopold Haimberger, Cyrus Samimi: Sensitivity of WRF-chem predictions to dust source function specification in West Asia Aeolian Research, 24, 115-131: 2017
Harald Zandler, Thomas Morche, Cyrus Samimi: Wind and solar power as possible energy alternatives in peripheral high mountains? : Insights from the Eastern Pamirs of Tajikistan Sustainable Development of Mountain Territories, 9, 4, 343-354: 2017
2016
Paul Schumacher, Bunafsha Mislimshoeva, Alexander Brenning, Harald Zandler, Martin Brandt, Cyrus Samimi, Thomas Koellner: Do Red Edge and Texture Attributes from High-Resolution Satellite Data Improve Wood Volume Estimation in a Semi-Arid Mountainous Region? Remote Sensing, 8, 7, : 2016
Clemens Romankiewicz, Martin Doevenspeck, Martin Brandt, Cyrus Samimi: Adaptation as by-product : Migration and environmental change in Nguith, Senegal Die Erde, 147, 2, 95-108: 2016
Seyed Omid Nabavi, Leopold Haimberger, Cyrus Samimi: Climatology of dust distribution over West Asia from homogenized remote sensing data Aeolian Research, 21, 93-107: 2016
Lina Eklund, Clemens Romankiewicz, Martin Brandt, Martin Doevenspeck, Cyrus Samimi: Data and methods in the environment-migration nexus : a scale perspective Die Erde, 147, 2, 139-152: 2016
Kim André Vanselow, Cyrus Samimi, Siegmar-W. Breckle: Preserving a Comprehensive Vegetation Knowledge Base : An Evaluation of Four Historical Soviet Vegetation Maps of the Western Pamirs (Tajikistan) PLoS One, 11, 2, e0148930: 2016
Harald Zandler, Bunafsha Mislimshoeva, Cyrus Samimi: Scenarios of Solar Energy Use on the "Roof of the World" : Potentials and Environmental Benefits Mountain Research and Development, 36, 3, 256-266: 2016
2015
Harald Zandler, Cyrus Samimi, Alexander Brenning: Potential of Space-Borne Hyperspectral Data for Biomass Quantification in an Arid Environment : Advantages and Limitations Remote Sensing, 7, 4, 4565-4580: 2015
Harald Zandler, Cyrus Samimi, Alexander Brenning: Quantifying dwarf shrub biomass in an arid environment : comparing empirical methods in a high dimensional setting Remote Sensing of Environment, 158, 140-155: 2015
Raphael Spiekermann, Martin Brandt, Cyrus Samimi: Woody vegetation and land cover changes in the Sahel of Mali (1967-2011) International Journal of Applied Earth Observation and Geoinformation, 34, 113-121: 2015
Cyrus Samimi: Aktuelle Tendenzen des Klimawandels in Gabriele Obermaier, Cyrus Samimi : "Folgen des Klimawandels" 8, 7-24: 2015
Manuel J. Mayr, Cyrus Samimi: Comparing the dry season in-situ leaf area index (lai) derived from high-resolution rapideye imagery with MODIS LAI in a Namibian savanna Remote Sensing, 7, 4, 4834-4857: 2015
Folgen des Klimawandels, Gabriele Obermaier, Cyrus Samimi , Bayreuth: Verlag Naturwissenschaftliche Gesellschaft Bayreuth e.V., 2015.
Martin Brandt, Cheikh Mbow, Abdoul Aziz Diouf, Aleixandre Verger, Cyrus Samimi, Rasmus Fensholt: Ground- and satellite-based evidence of the biophysical mechanisms behind the greening Sahel Global Change Biology, 21, 4, 1610-1620: 2015
Gabriele Obermaier, Cyrus Samimi: Transnationale Schutzgebiete im südlichen Afrika Praxis Geographie, 45, 4, 24-27: 2015
2014
Bernadette Staska, Franz Essl, Cyrus Samimi: Density and age of invasive "Robinia pseudoacacia" modulate its impact on floodplain forests Basic and Applied Ecology, 15, 6, 551-558: 2014
Martin Brandt, Clemens Romankiewicz, Raphael Spiekermann, Cyrus Samimi: Environmental change in time series : An interdisciplinary study in the Sahel of Mali and Senegal Journal of Arid Environments, 105, 52-63: 2014
Tobias Kraudzun, Kim André Vanselow, Cyrus Samimi: Realities and myths of the Teresken Syndrome : An evaluation of the exploitation of dwarf shrub resources in the Eastern Pamirs of Tajikistan Journal of Environmental Management, 132, 49-59: 2014
Thomas Glade, Rainer Bell, Paul Dobesberger, Christine Embleton-Hamann, Reinhard Fromm, Sven Fuchs, Karl Hagen, Johannes Hübl, Gerhard Lieb, Jan-Christoph Otto, Frank Perzl, Robert Peticzka, Christoph Prager, Cyrus Samimi, Oliver Sass, Wolfgang Schöner, Dagmar Schröter, Lothar Schrott, Christian Zangerl, Antonia Zeidler: Der Einfluss des Klimawandels auf die Reliefsphäre in Helga Kromp-Kolb : "Österreichischer Sachstandsbericht Klimawandel 2014 = Austrian Assessment Report 2014 (AAR14): Austrian Panel on Climate Change (APCC)" , 557-600: 2014
Bunafsha Mislimshoeva, Robert Hable, Manuchehr Fezakov, Cyrus Samimi, Abdulnazar Abdulnazarov, Thomas Koellner: Factors influencing households' firewood consumption in the Western Pamirs, Tajikistan Mountain Research and Development, 34, 2, 147-156: 2014
Martin Brandt, Aleixandre Verger, Abdoul Aziz Diouf, Frédéric Baret, Cyrus Samimi: Local vegetation trends in the sahel of Mali and Senegal using long time series FAPAR satellite products and field measurement (1982-2010) Remote Sensing, 6, 3, 2408-2434: 2014
Martin Brandt, Tobias Grau, Cheikh Mbow, Cyrus Samimi: Modeling Soil and Woody Vegetation in the Senegalese Sahel in the Context of Environmental Change Land, 3, 3, 770-792: 2014
Kim André Vanselow, Cyrus Samimi: Predictive Mapping of Dwarf Shrub Vegetation in an Arid High Mountain Ecosystem Using Remote Sensing and Random Forests Remote Sensing, 6, 7, 6709-6726: 2014
2013
Bunafsha Mislimshoeva, Cyrus Samimi, Joachim-F. Kirchhoff, Thomas Koellner: Analysis of costs and people's willingness to enroll in forest rehabilitation in Gorno Badakhshan, Tajikistan Forest Policy and Economics, 37, 75-83: 2013
Bernadette Kastler, Cyrus Samimi: The Impact of "Robinia pseudoacacia" on Ground Vegetation and Plant Nutrient Matter in Donau-Auen National Park in : "5th Symposium for Research in Protected Areas: 10-12 June 2013, Mittersill ; conference volume" , 345-352: 2013
Martin Brandt, Heiko Paeth, Cyrus Samimi: Vegetationsveränderungen in Westafrika im Spiegel des Klimawandels und der Landnutzung Geographische Rundschau, 65, 9, 36-42: 2013
2012
Cyrus Samimi, Andreas H. Fink, Heiko Paeth: The 2007 flood in the Sahel : Causes, characteristics and its presentation in the media and FEWS NEt Natural Hazards and Earth System Sciences, 12, 2, 313-325: 2012
Climate Change, Environment and Migration in the Sahel : Selected Issues with a Focus on Senegal and Mali, , 1, 2012
Clemens Romankiewicz, Cyrus Samimi, Martin Brandt, Raphael Spiekermann: Detecting environmental change using time series, high resolution imagery and field work : a case study in the Sahel of Mali Geophysical Research Abstracts, 14, : 2012
Kim André Vanselow, Tobias Kraudzun, Cyrus Samimi: Grazing practices and pasture tenure in the Eastern Pamirs : The nexus of pasture use, pasture potential, and property rights Mountain Research and Development, 32, 3, 324-336: 2012
Kim André Vanselow, Tobias Kraudzun, Cyrus Samimi: Land stewardship in practice : An example from the Eastern pamirs of Tajikistan in Victor Squires : "Rangeland Stewardship in Central Asia : balancing improved livelihoods, biodiversity conservation and land protection" , 71-90: 2012
2011
Ralf Koller, Cyrus Samimi: Deforestation in the Miombo woodlands : A pixel-based semi-automated change detection method International Journal of Remote Sensing, 32, 22, 7631-7649: 2011
Michael Zech, Carolin Bimüller, Andreas Hemp, Cyrus Samimi, Christina Broesike, Claudia Hörold, Wolfgang Zech: Human and climate impact on 15N natural abundance of plants and soils in high-mountain ecosystems : A short review and two examples from the Eastern Pamirs and Mt. Kilimanjaro Isotopes in Environmental and Health Studies, 47, 3, 286-296: 2011
Heiko Paeth, Andreas H. Fink, Susan Pohle, Felix Keis, Hermann Mächel, Cyrus Samimi: Meteorological characteristics and potential causes of the 2007 flood in sub-Saharan Africa International Journal of Climatology, 31, 13, 1908-1926: 2011
2010
Fred Krüger, Cyrus Samimi: Entwicklung und Umwelt im südlichen Afrika Geographische Rundschau, 62, 6, 4-10: 2010
Sybille K. Hassler, Jürgen Kreyling, Carl Beierkuhnlein, Jenny Eisold, Cyrus Samimi, Hendrik Wagenseil, Anke Jentsch: Vegetation pattern divergence between dry and wet season in a semiarid savanna - Spatio-temporal dynamics of plant diversity in northwest Namibia Journal of Arid Environments, 74, 11, 1516-1524: 2010
2009
Martin Brandt, Rupert Bäumler, Cyrus Samimi: Agricultural suitability of dune system and Limpopo Basin soils near Xai-Xai, Mozambique South African Journal of Plant and Soil, 26, 4, 206-212: 2009
Tanja Kraus, Michael Schmidt, Stefan W. Dech, Cyrus Samimi: Combination of remote sensing and in situ measurements for a detailed assessment of biophysical properties of East African rainforests : A case study for Kakamega Forest, Kenya, and Budongo Forest, Uganda in : "2009 IEEE International Geoscience and Remote Sensing Symposium : IGARSS 2009; Proceedings. Band 3" , 326-329: 2009
Tanja Kraus, Michael Schmidt, Stefan W. Dech, Cyrus Samimi: The potential of optical high resolution data for the assessment of leaf area index in East African rainforest ecosystems International Journal of Remote Sensing, 30, 19, 5039-5059: 2009
2007
Hendrik Wagenseil, Cyrus Samimi: Woody vegetation cover in Namibian savannahs : A modelling approach based on remote sensing Erdkunde, 61, 4, 325-334: 2007
2006
Hendrik Wagenseil, Cyrus Samimi: Assessing spatio-temporal variations in plant phenology using Fourier analysis on NDVI time series : Results from a dry savannah environment in Namibia International Journal of Remote Sensing, 27, 16, 3455-3471: 2006
Cyrus Samimi, Fred Krüger: Miombo - Ökologische und soziale Veränderungen im größten Trockenwald der Erde Geographische Rundschau, 58, 10, 40-47: 2006
Cyrus Samimi, Marcus Nüsser: Visionen der Vernetzung von Schutzgebieten im südlichen Afrika Natur und Landschaft, 81, 4, 185-192: 2006
2004
Cyrus Samimi, Tanja Kraus: Biomass estimation using Landsat-TM and -ETM+ : Towards a regional model for Southern Africa? GeoJournal, 59, 3, 177-187: 2004
2002
Tanja Kraus, Cyrus Samimi: Biomass estimation for land use management and fire management using Landsat-TM and -ETM+ Erdkunde, 56, 2, 130-143: 2002

>> Persönliche Homepage
>> Publikationen
>> Lehrveranstaltungen