Root hairs increase rhizosphere extension and carbon input to soil
Maire Holz1, Mohsen Zarebanadkouki2, Yakov Kuzyakov3, Johanna Pausch4, Andrea Carminati2
1 Bodenphysik, Universität Bayreuth/Agrarpedologie Universität Göttingen
2 Bodenphysik, Universität Bayreuth
3 Agrarpedologie, Universität Göttingen
4 Agrarökologie, Universität Bayreuth

O 3.3
in
Rhizosphere interactions: Biogeochemical processes at the root-soil interface
12.10.2017, 14:30-14:45, H36, NW III
(for research highlight presentations in 5 minutes: please delete subsections, 2 sentences with your keywords are sufficient!)

Introduction
Although it is commonly accepted that root exudation increases the access to nutrients and microbial activity in the rhizosphere, experimental data on the spatial distribution of exudates are scarce. We hypothesized that root hairs increase exudation and enlarge the rhizosphere far from the root surface.
Material and Methods
Barley (Hordeum vulgare L. cv. Pallas – wild type WT) and its root-hairless mutant (brb) were grown in rhizoboxes and labelled with 14CO2. A filter paper was placed on the soil surface to capture, to image and to quantify exudates.
Results
Wild and hairless barley had a similar aboveground biomass but root biomass and rhizosheaths were larger for plants with root hairs. Plants with root hairs allocated more C belowground (WT: 13%; brb: 8% of assimilated 14C) and to rhizosheaths (WT: 1.2%; brb: 0.2%), while hairless plants allocated more C to shoots (WT: 65%; brb: 75%). 14CO2 released from soil was similar one day after labelling for both plant types (10%). Root hairs increased the radial rhizosphere extension by 3 times, from 0.5 to 1.5 cm. Total exudation was three times higher for WT plants compared to the mutant without hairs.
Conclusions
Root hairs increase the exudation and the spatial extent of the rhizosphere, which further improves nutrient accessibility through enhanced nutrient cycling in a larger soil volume. Plants with root hairs and particularly varieties with long and dense root hairs are suitable for future agriculture where nutrients are expected to become scarce The higher C allocation belowground in the presence of root hairs may additionally foster C sequestration.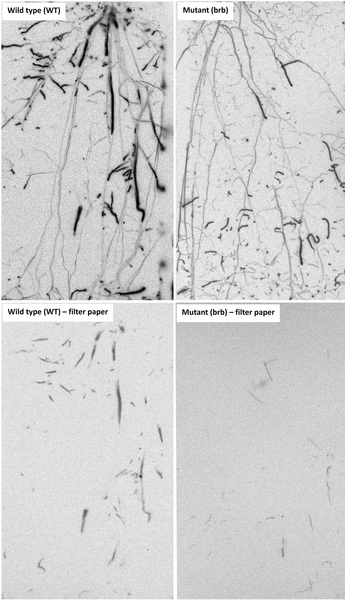 14C phosphor images of the root system of the barley plants (top) and of the root exudates that diffused into the filter paper (bottom) which was attached to the plant during labelling. The intensity of dark colour corresponds to 14C activity.
Keywords: Root exudates, rhizosphere extension, root hairs, 14C imaging, carbon allocation, root-soil interface, Barley (Hordeum vulgare L.).
Export as iCal: