Conferences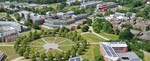 Stabile Isotope als Wegweiser für die Zukunft der Forschung
Die GASIR Konferenz 2023 - das jährliche Treffen aller mit stabilen Isotopen Forschenden - findet vom 27.-29. September an der Universität Bayreuth statt. Die Konferenz bietet ein breites Spektrum an Themen und mit dem Student Isotope Workshop im Vorfeld spannende Optionen für Promovierende.
>>more...
---

Macroecology and Biogeography meeting 2023 in Bayreuth
From May 3 to 6, a joint symposium of the AK Macroecology (GFÖ) and the AK Biogeography (VGDH) took place on the campus of the University of Bayreuth. This symposium provides one of the most important scientific platforms for macroecological and biogeographical research in Central Europe and aims to promote communication and collaboration between scientists*. About 140 participants experienced an intensive, internationally attended event with 38 presentations, 49 poster contributions and a colorful social program.
>>more...
News

"I am a mushroom ecologist with all my heart"
Prof. Dr Claus Bässler has taken over the professorship of fungal ecology at the University of Bayreuth on 1 April 2023 and his a new BayCEER member.
>>Link...
---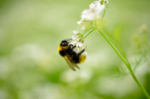 Less lawn, more flowers: Bayreuth University joins the "Mower-free May" campaign
Over 50,000 square metres of green space on the university campus will not be mown in the next few weeks. In this way, the university is promoting insect diversity.
>>Link...
---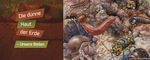 Ausstellung "Die dünne Haut der Erde - Unsere Böden" im ÖBG
Die vom Senckenberg Museum für Naturkunde Görlitz konzipierte interaktive Ausstellung ist auf Initiative von Prof. Dr. Johanna Pausch, Agrarökologie Uni Bayreuth, ab Mitte April ein halbes Jahr lang im Ökologisch-Botanischen Garten zu Gast. Der Eintritt ist frei. Über Inhalte, Rahmenprogramm, Virtual Reality Aktionstage und buchbare BNE- Projekte informiert die Internetseite der Ausstellung:
>>Link...
---

Fundgrube: Wissenswertes rund um Auen
Zum Main FlussFilmFest im März 2023 wurde der Webauftritt des in Bayreuth zur Landesgartenschau 2016 von BayCEER, Bund Naturschutz und Fischereiverband gestalteten Auenlehrpfads aktualisiert. Hier findet sich jede Menge Wissenswertes rund um die Bedeutung der Auen für Biodiversität, Stadtklima und Wasserregulierung im Klimawandel.
>>more...
---

Registration for the examination BANU-Felbotanik (Bronze and Silver level) now open
The Ecological-Botanical Garden of the University of Bayreuth in cooperation with the Bavarian Academy for Nature Conservation and Landscape Management (ANL) offers participation in the examinations BANU-Feldbotanik Zertifikat Nordbayern in bronze and silver on 24 June 2023. You are cordially invited to participate!
>>more...
Rankings & Awards

Most important prize in STEM didactics goes to Germany for the first time
Prof. Dr. Franz X. Bogner from the University of Bayreuth is the first German biology didactician to receive the highest US STEM research award, the NARST Distinguished Contributions through Research Award.
>>Link...
Events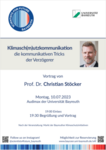 S4F laden ein: Vortragsabend mit Christian Stöcker
Die Scientists4Future Community Bayreuth lädt am Montag, 10. Juli 2023 zum Vortrag von Professor Dr. Christian Stöcker: "Klimasch(m)utzkommunikation - die kommunikativen Tricks der Verzögerer". Der Kognitionspsychologe lehrt Digitale Kommunikation an der HAW Hamburg und forscht zu Wechselwirkung von digitaler Medientechnologie und Öffentlichkeit. Der Vortragsabend beginnt um 19:30 Uhr im Audimax am Campus der Universität in Bayreuth und schließt mit einem "Markt der Bayreuther Klimaschutzinitiativen" an. Informationen und Reservierungsmöglichkeit auf den S4F-Seiten:
>>Link...
Ecological-Botanical Garden

ÖBG Annual Report 2022 published
The Ecological-Botanical Garden of the University of Bayreuth published its annual report 2022. It documents central innovations and projects, the variety of teaching carried out, research at the navel of time and the constantly growing and more demanded exchange between science and society ("Third Mission").
>>more...
Research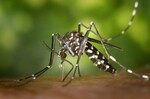 Bayreuth researchers work interdisciplinarily on the elucidation of the Asian tiger mosquito
Climate change promotes the settlement of non-native mosquitoes and pathogens in Bavaria. Scientists at the University of Bayreuth are working on an interdisciplinary project to develop a warning system that will provide different behavioural recommendations and protective measures for the population depending on the risk. The focus is on the West Nile virus, which can be transmitted by domestic mosquito species, and the Chikungunya virus, which can be transmitted by the Asian tiger mosquito.
>>Link...
---

New study by the University of Bayreuth examines ways to expand nature conservation in the EU
Preserving endangered and typical habitats in Europe with their biodiversity is the goal of Natura 2000, a network of nature reserves established by the EU. By 2030, EU member states want to significantly expand this network. A new biogeographical study by the University of Bayreuth published in the "Journal for Nature Conservation" shows: Expanding Natura 2000 sites in financially weaker EU member states to immediately neighbouring regions can be an effective strategy for increasing species and landscape conservation. Natural habitats in these regions are rarely diminished by settlements and economic infrastructure.
>>Link...
---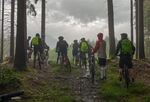 Environmental impacts of mountain biking
Mountain biking is one of the most popular leisure activities today. Sport ecologists at the University of Bayreuth have now compiled and evaluated a wide range of previously published findings on the ecological consequences of this sport. Numerous direct and short-term effects on animals, plants and soils can be clearly demonstrated. However, estimates of long-term consequences remain difficult because of the complexity of ecosystems and their inherent dynamics. The review article was published in the journal "Global Ecology and Conservation".
>>Link...
---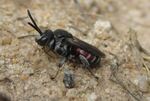 Ecological-Botanical Garden is a hotspot for wild bees in Central Europe
214 wild bee species, and thus a little more than 40 per cent of the bee species found in Bavaria, were detected last year in the Ecological-Botanical Garden of the University of Bayreuth as part of a master's thesis. Among them were four species threatened with extinction, such as Ammobates punctatus, as well as numerous other endangered species.
>>Link...
---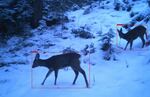 A Milestone for Ecosystem Research: Artificial Intelligence in Wildlife Monitoring
In Veldensteiner Forst, one of the largest forest areas in Bavaria, recreational sports, tourism, the timber industry and nature conservation are in close proximity. Researchers from sport ecology at BayCEER / University of Bayreuth, LMU Munich and the Bavarian State Institute of Forestry are working on artificial intelligence software that, in conjunction with high-tech cameras, will provide information about the interactions between wildlife and people in the forest. Native wildlife will be automatically recognized and classified.
>>Link...