How to get to Bayreuth & the conference venue
Airplane:
The best way to get to Bayreuth by flight is via Nuremberg Airport. From Nuremberg Airport, there is the possibility to take the subway (U2) to Nuremberg main train station (Nürnberg Hauptbahnhof) and from there directly to Bayreuth main station via regional train (ca. 1 hour and 30 min).
Train:
For train connections, please check this link: https://www.bahn.com/en
The main train station in Bayreuth is fairly central, and all suggested hotels are within walking distance. From here as well as from the central bus station (ZOH) different bus lines go to the University of Bayreuth which take around 15 to 20 minutes). Walking to the campus will take you around 45 minutes.
Check below the best way to reach the conference via bus.
Car:
Bayreuth is well-connected, with the freeway A9 next to the city. The campus is located in the south of the town, just 900 meters from the interchange to freeway "A9" (exit 'Bayreuth-Süd'). Signs labelled "UNIVERSITÄT" will direct you to the campus when driving from the freeway or from downtown.
Conference location:
The conference as well as the workshops will be held at the SWO of the University of Bayreuth, marked on the map of the University Campus below: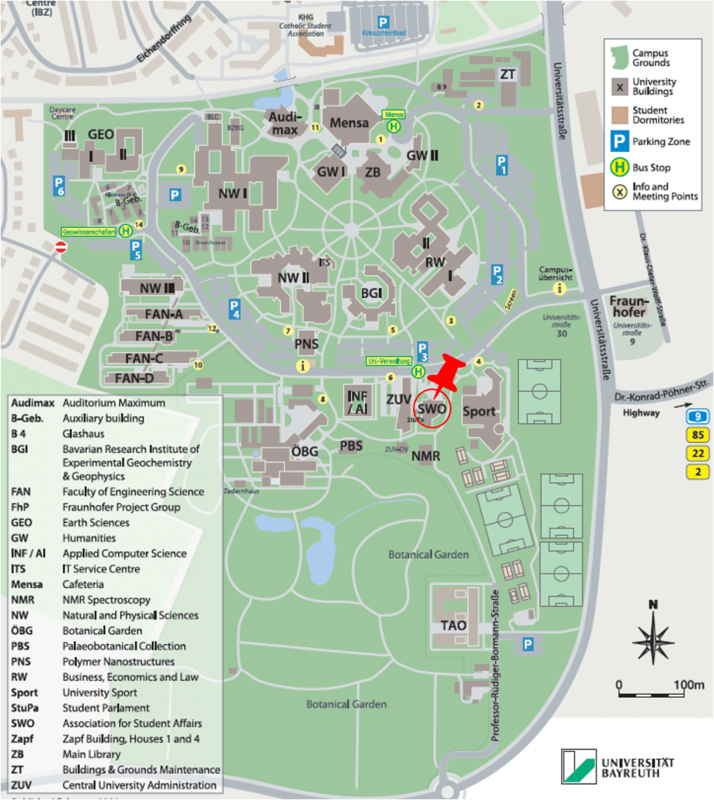 Bus:
To reach the SWO, we recommend taking the bus to "Uni-Verwaltung" ("University Administration").
Recommended bus lines are 306 (towards Campus); 316 (towards Campus) and 304 (towards Universität). By clicking onto the bus line, you will find the various timetables.
For general bus information and other bus lines, please click here.
Taxi-Services:
Within Bayreuth, we have several taxi services you may want to use during your time in our city. Please find attached a list of different taxi companies:
Taxi Union Bayreuth (Phone number: +49 (0)921 22333)
Taxi Schröder (Phone number: +49 (0)921 66622)
Taxi & MW Alexander Kroter (Phone number: +49 (0)921 64455)
Taxi Klein (Phone number: +49 (0)921 1508775)
Taxi Potzel & Potzel (Phone number: +49 (0)921 47776)
Alternative Transportation:
We also want to draw your attention towards two other ways to reach and leave Bayreuth. Maybe it appeals to you using either...
If you have any further questions regarding the arrival, don't hesitate to contact us.