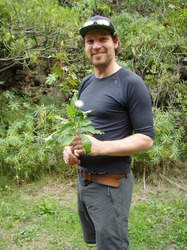 Prof. Dr.
Severin D.H. Irl
Wissenschaftlicher Mitarbeiter
Bis 10/2014 bei Störungsökologie
e-Mail:
severin.irl(at)uni-bayreuth.de
Research interests
New: as of September 2018 Professor of Biogeography, Biodiversity and Ecosystem Services, Institute of Physical Geography, Goethe-University Frankfurt
I'm an Assistant Professor at the Department of Biogeography (University of Bayreuth). My main research interests include:
Island biogeography and ecology, especially focusing on the endemic plant species of La Palma (Canary Islands)
Global treeline patterns with a particular (but not exclusive) focus on islands
Biogeography and ecology of high-elevation ecosystems on oceanic islands and how disturbances shape these systems (e.g. introduced herbivores, fire, etc.)
Spatial and ecological distribution of endemic and inuslar species and the possible effects of climate change on this distribution
Primary succession on lava flows
Global and macroecological patterns of all sort mainly revolving around diversity, rarity, endemism and invasion
I'm board member of the newly founded Society of Island Biology (SIB): www.islandbiology.com
orcid.org/0000-0002-1734-8607
Latest publications
* Equal contribution
* Equal contribution
>>
Curriculum Vitae
>>
Publikationen
>>
Vorträge, Poster...
>>
Doktorarbeit
>>
Betreute Abschlussarbeiten
>>
Lehrveranstaltungen