News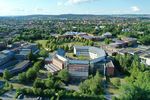 At the top of the "Nature Index Germany": Earth and Environmental Sciences at the University of Bayreuth
In the recently published "Nature Index Germany 2020", the University of Bayreuth is listed as the best university nationwide in the field of Earth and Environmental Sciences. The new subject-based ranking reflects the research strength of two long-standing Advanced Fields of the University of Bayreuth: High-pressure and High-temperature Research, which is primarily concerned with the structure and dynamics of the Earth and terrestrial planets, as well as Ecology and Environmental Sciences.
>>more...
Job announcements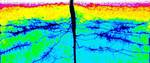 Full Professor of Soil Physics
The W3 professorship for the Chair of Soil Physics is currently being filled as the successor to Prof. Andrea Carminati. The faculty of Biology, Chemistry & Earth Sciences invites applications especially from high potential researchers who investigate the interactions between physical, biological, and chemical processes in the soil-plant-air continuum. The application deadline is 31 January 2021.
>>Link...
Research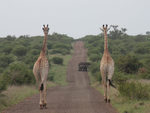 Protected Areas Are Not Safe from Climate Change
Approximately 15% of the world's land is designated as protected areas to conserve our planet's biodiversity. Though these natural reserves are protected from direct human pressures, they are not immune to the consequences of climate change. Given their central importance for preserving species and habitat niches, managers and policymakers need to know which areas would be most affected and vulnerable. In a new study published in Diversity and Distributions Samuel Hoffmann and Carl Beierkuhnlein (Department of Biogeography) calculated the predicted climate change magnitude in all protected areas worldwide. The results revealed that protected areas in the subtropics and polar regions are climate change hot spots. Temperature change is projected to be largest in subtropical regions, while polar regions are predicted to have the greatest changes in precipitation.
>>Link...
---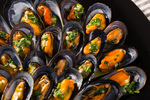 It's shellfish season!
One of the latest papers originating from the CRC 1357 (SFB Microplastics) targets a comparison of the microplastics contamination from mussels originating from all over the world. The authors investigated commercially available mussel samples and to no surprise, all mussel samples from four different mussel species contained microplastics. However, the samples from the North Atlantic and South Pacific were the most contaminated. Read the paper recently published in the journal "Environmental Pollution" to chosse the least contaminated mussels before you start into the shellfish season.

>>Link...
---

High number of extinct bird species leads to misinterpretation of evolutionary dynamics
A study with the participation of our Bayceer member Prof. Manuel Steinbauer uses paleontological data to show an underestimated anthropogenic influence on evolutionary dynamics and species extinction. Therefore, the research group pleads to base macroevolutionary analyses not only on purely genetic species datasets, but to include paleontological, ecological and evolutionary research datasets.
>>more...
Ecological-Botanical Garden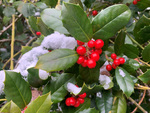 Baum des Jahres 2021
Die Europäische oder Gemeine Stechpalme (Ilex aquifolium L.) ist zum Baum des Jahres 2021 von der Dr. Silvius Wodarz Stiftung gekürt worden. Die Stechpalme ist neben dem Buchsbaum eine einheimische immergrüne Laubbaumart. Von Natur aus kommt sie bei uns nur in Laubwäldern wintermilder Gebiete vor. Das Verbreitungsgebiet in Deutschland umfasst Habitate, die vor allem atlantisch und subatlantisch geprägtes Klima aufweisen. In Bayern findet man lediglich ein kleines Vorkommen am Alpennordrand. Dafür findet man das wohl prächtigste deutsche Exemplar am Niederrhein bei Emmerich. Mit ca. 12 m Höhe wird vermutet, dass der Baum bereits 260 Jahre alt ist.
>>more...
---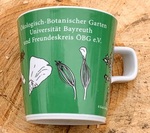 Now available: The ÖBG collection cup "Cedar"
The Friends of the Ecological-Botanical Gardens has a special gift on offer. The motif of the cup, designed exclusively for the EBG, shows the growth phases of the Lebanon cedar (Cedrus libani), a tree species that may be important in our region in future climate. The collector's mug is available for €8 in the secretary's office, Mon-Fri 8-12 o'clock and Mon-Mi 13-16 o'clock. The edition is limited.
>>Link...
Leben in Bayreuth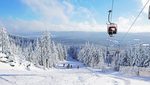 Skifreuden in Mittelgebirgen werden bald zur Rarität
Im Landkreis Bayreuth konnten sich einige über seltene weiße Weihnachten freuen und auch die derzeitig gute Schneelage würde momentan sicher viele ins Fichtelgebirge locken - wäre da nicht die Corona-Pandemie. In einem Interview mit dem VDI (Verein Deutscher Ingenieure e.V.) schildert Prof. Thomas Foken, BayCEER-Mitglied und ehemaliger Leiter der Abteilung Mikrometeorologie, warum traumhafte Wintersportbedingungen in den Mittelgebirgen bald Geschichte sein werden.
News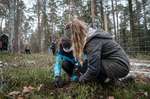 Klimawald Bayreuth - neue Fläche bepflanzt
Im Klimawald-Projekt, das Bayreuther Studierende 2018 angestoßen haben, wurde eine weitere Fläche bepflanzt - rund 1200 Bäume stehen nun im "Klimawald 2.0." am Saaser Berg im Süden von Bayreuth. Ausgewählt wurden heimische und nicht-heimische Eichen, sowie Esskastanien und zwei Zedernarten. Die Entwicklung der verschiedenen Baumarten an diesem trocken-sandigen Standort wird nun über die kommenden Jahre genau verfolgt.
>>more...