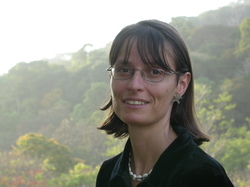 Prof. Dr.

Bettina Engelbrecht
Professor
Functional and Tropical Plant Ecology

Phone: +49 921 55-2578
Fax: +49 921 55-2564
Room: 7.0.01.27 (NW I)
e-Mail: Bettina.Engelbrecht(at)uni-bayreuth.de


University of Bayreuth
Universitätsstraße 30
95440 Bayreuth
Germany



My research interests focus on the mechanisms shaping tree distribution patterns along environmental gradients. I am particularly interested in the relative importance of different factors, especially water, but also light and nutrient availability, herbivory, pathogens, seed dispersers and historical processes.

The importance of variation of water availability, and the emerging consequences for tropical forests under climate change conditions are a special focus of my work. I am using a pronounced rainfall gradient at the Isthmus of Panama as a model system, and conduct the research at the Smithsonian Tropical Research Institute in Panama, where I am a Research Associate.

I am also investigating effects of climatic changes and human impacts on forests in the Congo basin, the second largest continuous rainforest on earth. This research is conducted in the framework of CoForChange, an EU-funded project.




Selected Publications
| | |
| --- | --- |
| 2 | Gaviria, J; Turner, B; Engelbrecht, BMJ: Drivers of tree species distribution across a tropical rainfall gradient, Ecosphere, 8(2) (2017), doi:10.1002/ecs2.1712 |
| 3 | O'Brien, MJ; Engelbrecht, BMJ; Joswig, J; Pereyra, G; Schuldt, B; Jansen, S; Kattge, Jens; Landhäusser, SM; Levick, SR; Preisler, Yakir; Vaananen, P; Macinnis-Ng, Cate: A synthesis of tree functional traits related to drought-induced mortality in forests across climatic-zones, Journal of Applied Ecology, 54(6), 1669-1686 (2017), doi:10.1111/1365-2664.12874 |
| 4 | Gaviria, J; Engelbrecht, BMJ: Effects of drought, pest pressure and light availability on seedling establishment and growth: Their role for distribution of tree species across a tropical rainfall gradient, PLoS ONE, 10.1371/journal.pone.0143955 (2015), doi:DOI 10.1371/journal.pone.0143955 |
| 5 | Condit, R; Engelbrecht, BMJ; Pino, D; Perez, R; Turner, B: Species distributions in response to individual soil nutrients and seasonal drought across a community of tropical trees, PNAS, 110, 5064-5068 (2013) |
| 6 | Craine, JM; Engelbrecht, BMJ; Lusk, CH; McDowell, N; Poorter, H: Resource Limitation, Tolerance, and the Future of Ecological Plant Classification., Frontiers in Plant Science, 3, 246 (2012), doi:10.3389/fpls.2012.00246 |
| 7 | Wright, SJ; Kitajima, K; Kraft, NJB; Reich, PB; Wright, IJ; Bunker, DE; Condit, R; Dalling, JW; Davies, SJ; Díaz, S; Engelbrecht, BMJ; Harms, KE; Hubbell, SP; Marks, CO; Ruiz-Jaen, MC; Salvador, CM; Zanne, AE: Functional traits and the growth-mortality tradeoff in tropical trees, Ecology, 12, 3664-3674 (2010) |
| 8 | Comita, LS; Engelbrecht, BMJ: Seasonal and spatial variation in water availability drive habitat associations in a tropical forest, Ecology, 90, 2755-2765 (2009) |
| 9 | Kursar, TA; Engelbrecht, BMJ; Burke, A; Tyree, MT; El Omari, B; Giraldo, JP: Tolerance to low leaf water status of tropical seedlings is related to drought performance and distribution, Functional Ecology, 23, 93-102 (2009) |
| 10 | Engelbrecht, BMJ; Comita, LS; Condit, R; Kursar, TA; Tyree, MT; Turner, BL; Hubbell, SP: Drought sensitivity shapes species distribution patterns in tropical forests, Nature, 447, 80-82 (2007) |
| 11 | Lovelock, CE; Feller, IC; Ball, MC; Engelbrecht, BMJ; Ewe, ML: Differences in plant function in phosphorus- and nitrogen-limited mangrove ecosystems, New Phytologist, 172, 514-522 (2006) |
>> Courses taught