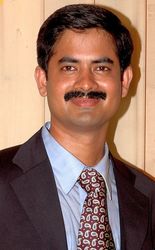 Dr.

Amarnath Giriraj
Research Associate

At Disturbance Ecology until 12/2009
e-Mail: giriraj(at)uni-bayreuth.de




Amarnath Giriraj ist PostDoc am Lehrstuhl Biogeografie der Universität Bayreuth. Seine Promotion hat er in Indien zum Thema "Spatial Characterization and Conservaiton Prioritization in Tropical Evergreen Forests of Southern Western Ghats (India) using Geoinformatics" bei der Abteilung Forst & Ökologie der indischen Nationalen Fernerkundungsagentur geschrieben.

Er beschäftigt sich schwerpunktmäßig mit der Nutzung von Fernerkundungsdaten auf verschiedenen Skalen (von Arten bis zu Landschaftsebene) zum Monitoring und Schutz von Biodiversität. Ziel ist die Erfassung und Quantifizierung von Landnutzungsänderungen und ihrer Auswirkungen auf die Biodiversität und die Identifikation von potentiellen Habitaten für endemische und gefährdete Arten.

Ein weiterer Fokus seiner Arbeit liegt auf der Feuerökologie. Hierbei werden verbrannte Flächen mit multiskaligen und multitemporalen Satellitendaten erfasst und die Daten für das Monitoring und die Vorhersage von zukünftigen Feuern ausgewertet. Diese Daten dienen als Grundlage für die Identifizierung von Gebieten, in denen Feuer wahrscheinlich sind, und damit für die Entwicklung von Feuer-Management-Systemen.


Internetauftritt des International Centre for Integrated Mountain Development (ICIMOD).



>> Publications
>> Lectures, posters...