DFG Core Facility: Bayreuth Center for Stable Isotope Research in Ecology and Biogeochemistry (BayCenSI)
BayCenSI
From 08/2021 to 07/2026
Principal Investigator
:
Johanna Pausch
Staff
:
Alexander Frank
,
Carina Bauer
Collaborative Partners
:
Tillmann Lüders
,
Eva Lehndorff
,
Gerhard Gebauer
,
Birgit Thies

Stable isotope analysis is a powerful and meanwhile indispensable tool in ecology and biogeochemistry. It enables a comprehensive understanding of ecosystem processes across spatial and temporal scales. Modern, innovative technologies and ways of interpreting isotope data are developing rapidly. The broad spectrum of isotope applications uniquely allows to identify and quantify processes and interactions in complex natural systems. Stable isotope approaches have decisively shaped our understanding of matter fluxes in ecosystems, trophic interactions in food-webs and human-environment-interactions including climate change.
The "Bayreuth Center for Stable Isotope Research in Ecology and Biogeochemistry" (BayCenSI), funded by the DFG, synchronizes and synergizes the existing competences at UBT, push further methodological innovation and top-level research, and provide internal and external users from multidisciplinary fields with cutting-edge analytics to gain a more comprehensive understanding of ecosystem processes from seconds to centuries and from molecular to global scales.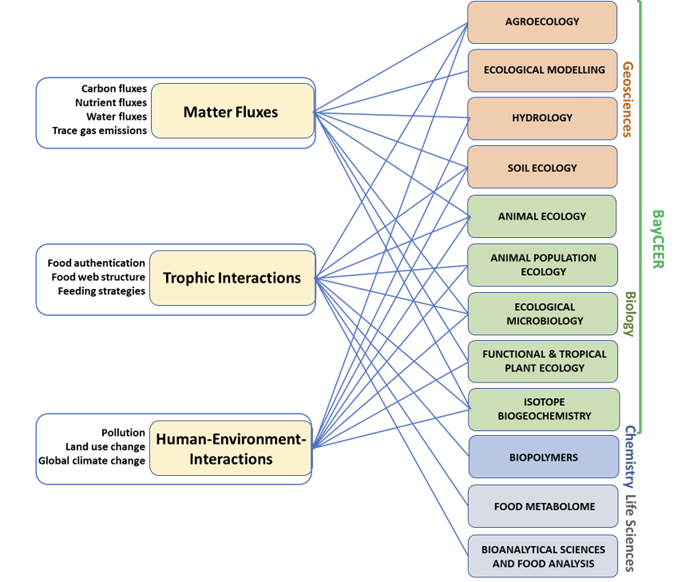 Stable isotope research at the University of Bayreuth: Topics and research groups.
Homepage
:
https://www.censi.uni-bayreuth.de/en/index.html