Setup of the LOVE project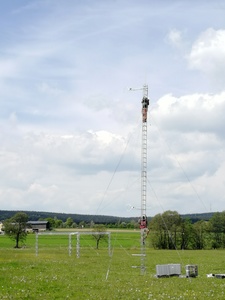 2019-06-03
Since May we're building up the Large eddy Observatory Voitsumra Experiment (LOVE). During the measuring period of more than one month three-dimensional observations of temperature, wind speed and wind direction will be taken with about 4 km of optical fibre. With this LOVE is the so far largest fibre-optical distributed sensing experiment!
LOVE combines a horizontal measuring network on the ground with many horizontal observations:
- a measuring tower of 12 m height
- a flying fibre optics experiment with a tethered balloon (0 – 200 m measuring height)
- a SoDAR RASS (Sound Detection And Ranging + Radio-Acoustic Sounding System; 20 – 240 m measuring height)
- a LiDAR (Light Detection And Ranging; 0.25 – 5 km measuring height) and
- a Ceilometer (0.18 – 7 km measuring height).
The data gained with this experiment will be used to understand how the atmospheric boundary layer behaves under stable, weak-wind conditions. The focus lays on the observation of near-surface turbulence, its formation and evolution and its interaction with larger motions.