The
BayCEER Blog
collects research experiences and insights within BayCEER. Interested? ->
How to blog (PDF)
.
2014-10-14
BayEOSViewer 1.0.0 released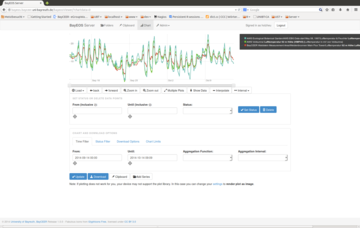 Four month after developement release the BayCEER IT group released the first stable version of the new BayEOS server viewer.
BayEOS viewer is a server application written in PHP. It communicates with the BayEOS server backend via the XML-RPC interface.
Like BayEOS gateway the BayEOS viewer layout is based on the Bootstrap CSS. Bootstrap CSS allows one web applications to run smoothly on small smart phone divices as well as on large dektop computers.
In the long run, BayEOS viewer will replace the data browser GOAT. For easy installations debian packages are available.
---
Back to the News