EVA - European Vegetation Archive
Aims: EVA is the collaborative, self-governed vegetation-plot database of the IAVS Working Group European Vegetation Survey (EVS). National and large regional plot databases (typically > 2,000 plots) from Europe (including Canary Islands, Turkey, Cyprus and the Caucasus countries) can contribute data to EVA and become members of the EVA Consortium. Thanks to the software Turboveg 3 (prototype), all plots from the various member databases can be combined in a single integrated database, despite different species lists and header data structures. EVA provides the data for research projects of its consortium members as well as to the global partner database sPlot.
Foundation: 2012
Coordinating Board (2016-2020): Idoia Biurrun (ES), Milan Chytrý (CZ), Jürgen Dengler (DE), Stephan Hennekens (NL), Florian Jansen (DE), Borja Jiménez-Alfaro (DE/ES), Ilona Knollová (CZ)
Bylaws: http://euroveg.org/download/eva-rules.pdf
URL: http://euroveg.org/eva-database
Current content (January 2017): c. 1,300,000 plots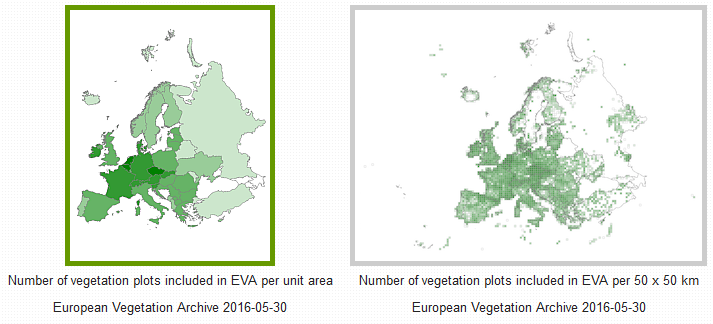 Literature:
Chytrý, M., Hennekens, S.M., Jiménez-Alfaro, B., Knollová, I., Dengler, J., Jansen, F., Landucci, F., Schaminée, J.H.J., Aćić, S., (…) & Yamalov, S. 2016. European Vegetation Archive (EVA): an integrated database of European vegetation plots. Applied Vegetation Science 19: 173–180.